RIT Hockey Media Day previews upcoming season
Join RIT SportZone in person or online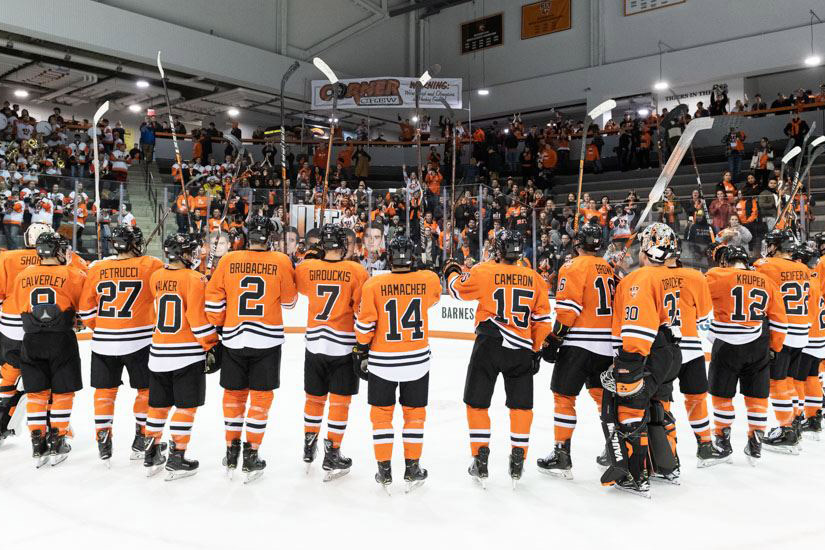 Eakin Howard
Live, from the Gene Polisseni Center, it's RIT Hockey Media Day!
RIT SportsZone is hosting the free, open event at 4 p.m. Tuesday, Oct. 1, in the arena. Tiger Hockey fans will get a preview of the season through featured interviews with men's and women's team coaches and players, as well as Lou Spiotti Jr., executive director of intercollegiate athletics at RIT. Afterward, the media will be invited to talk with those in attendance.
Can't join us at the Polisseni Center? You can still experience the excitement of media day from across the street or across the globe. We'll be streaming the event on both Facebook and the web. Watch the coverage on the RIT Athletics Facebook page (www.facebook.com/RIT.Athletics) or at www.ritathletics.com.
The men, coached by Wayne Wilson, RIT men's hockey head coach, are three-time Atlantic Hockey Conference Champions (2010, 2015 and 2016). They open their season Oct. 5 at Colgate University followed by the Ice Breaker Tournament Oct. 11 and 12 in Ohio featuring Bowling Green, Ohio State and Western Michigan.
The women, coached by Chad Davis, Bruce B. Bates Women's Hockey Coach, won College Hockey America Championships in 2014 and 2015. They open season on home ice Oct. 4 and 5 vs. the University of Vermont.
Topics