RIT Honors Frank Romano with Special Award of Recognition
Professor emeritus and printing industry expert acknowledged at Isaiah Thomas Award ceremony in Worcester, Mass.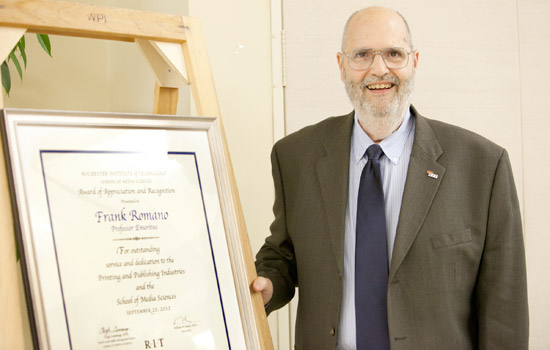 Frank Romano has dedicated his life to the printing industry in various roles: professor, consultant, advocate and author.
Rochester Institute of Technology—where Romano has taught for 22 years and still teaches online courses—honored the professor emeritus and world-renowned printing expert with a surprise award of appreciation and recognition during this year's Isaiah Thomas Award in Publishing ceremony. Chris Bondy, administrative chair of RIT's School of Media Sciences, presented Romano with a framed certificate at the event Sept. 20 in Worcester, Mass.
"I was surprised to win the award, but extremely honored," Romano says. "The most important thing is that I've had the opportunity to teach students and work at RIT. For me, the real award is watching my students graduate and go on to work in the industry and help to build a better industry. That's my real award."
Throughout his career, Romano has worked for industry suppliers and has written more than 50 books and hundreds of articles. He is recognized as a leading authority on graphic arts technology and trends, and in 1977 founded TypeWorld (later Electronic Publishing), one of the industry's leading trade publications throughout the desktop and digital printing revolution.
"Frank Romano is one of those perfect storms of intelligence, enthusiasm and good humor," says David Pankow, director of RIT Press. "He is a born teacher, and when he walks into a room, every eye turns toward him waiting for the latest of late breaking news in the graphic arts industry. Few others have mastered as well as he the transition from print to digital and done it with such inspiring confidence in its possibilities."
Romano has closely analyzed the future of newspapers, magazines, libraries and bookstores in the digital age. He is an expert in Internet copyright and trademark issues, graphics, electronic publishing and online publishing and Internet commerce. He was also involved in the development of an electronic version of the Congressional Record.
One of Romano's former students recalls his ability to look ahead to the future.
"The day I heard Frank talk about printing or better yet the future of printing, something sparked in my brain," says Gisela Delgado, a 2002 graduate of RIT's School of Print Media. "I was too focused on where the printing industry currently was and where it had been. Here was this guy talking about 'e-books' like he was from the future. Imagine this was 14 years ago when he was talking about this technology, before the first iPod. I used to love to listen to Frank talk about printing and how it would continue to evolve. He motivated me to learn everything there was about printing."
Each year, RIT's School of Media Sciences (formerly the School of Print Media), honors a person or an organization with the Isaiah Thomas Award in Publishing in recognition of their outstanding contributions to the industry.
This year's recipient is the American Antiquarian Society, a national research library and learned society located in Worcester, Mass.
Topics