RIT honors outstanding staff members
Staff members recognized for exemplary service, commitment and involvement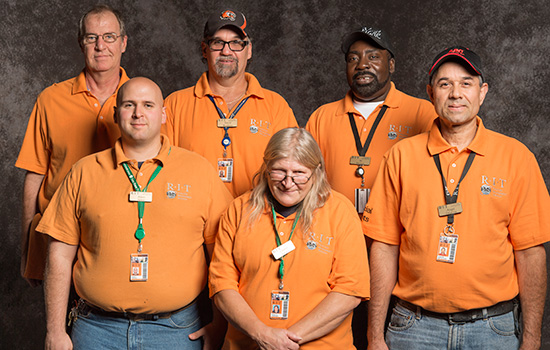 RIT honored employees for outstanding service and dedication to the university during its annual Presidential Awards for Outstanding Staff ceremony. Awards, presented Oct. 5 in Ingle Auditorium, were given based on commitment to student success; integrity and ethics; respect, diversity and pluralism; and teamwork and collaboration.
Excellence Award winners are:
Kory Samuels, executive director, RIT Dining Services. According to his nomination form, Samuels "sincerely cares about our customers' dining experiences on campus. He is highly recognized as an astute business leader and considered an expert on the national food and hospitality scene." Another stated, "Kory is the most enthusiastic and motivating staff member I have ever met at RIT. He treats every single person he meets, whether a student or a manager, like a family member and always inspires everyone around him to do their best and stay positive."
The Facilities Management Services Building Services B-Shift: Alan Anderson, Angel DeLaCruz, Alonso Harrison, Adam Helmer, Doug Oliver, Cheryl Petersen and David Woodhams. One nominator wrote, "B-shift is what every team should look like. They are unsung heroes. They work with integrity, pride and diligence. Putting on events can be quite stressful, but having the B-shift there puts everyone at ease. These team members are generous, courteous, extremely hardworking, kind, caring and get to know people like friends. I am continually impressed by the FMS B-Shift team's exceptional commitment to providing superior customer service. I am sincerely grateful to each team member for contributing to the success of our events. They take great pride in knowing an event was a success."
Brenda Schlageter, operations manager, RIT Center for Media, Arts, Games, Interaction and Creativity (MAGIC). According to her nomination form, Schlageter "puts her heart and soul into everything she does and 'above and beyond the call of duty' is her version of 'normal.' No task is too great for Brenda and she does it all with efficiency and precision—and often without being asked." Another nominator stated, "Brenda is essential. Without her, the MAGIC Center would simply not be possible."
Kiersten Shinrock, director, NTID Student and Academic Services, formerly associate director of Reunions and Affinity Programs, which is the role she was nominated for. One nomination form read, "What makes Kiersten unique is her strong passion for serving and teaching others to be inclusive. She generously gives her time way above and beyond her job requirements, taking the time to listen to student needs, provide mentoring and lend a helping hand wherever she can." In addition, "Kiersten is a dedicated, loyal, energetic individual who gives of herself freely. She is a true RIT citizen in every way."
The Rising Star Award is presented to a staff member with three years or less of service and who presents progressive examples of high-quality service, has demonstrated a willingness to work collaboratively with colleagues and constituents, and shows imagination, creativity and innovation that embody the RIT spirit. This year's winner is Rachel Flaherty, program coordinator and counselor in the Higher Education Opportunity Program (HEOP). Flaherty's nomination cited that "her enthusiasm, personal ethics and integrity are evident in all she does. In her short time here she has made an indelible impression on the campus community. There are many students who attribute their success at RIT to Rachel's support and guidance. She is an invaluable asset to RIT."
The Isaac L. Jordan Sr. Staff Pluralism Award recognizes a staff member who demonstrates passion and commitment to spreading the goals of diversity and pluralism across our campus and into the greater community. This year's recipient is Stephanie Paredes, multicultural program manager, Office of Diversity and Inclusion. One of Paredes' nominators said, "Stephanie continually shows me, and the students she interacts with, how to have respectful, intellectual, challenging, open, honest and fruitful dialogue about diversity issues. Given the current political climate, Stephanie opens herself to anyone who has questions; none are dismissed." Another stated, "Stephanie is a joyful force, enriching the (multi)culture of our campus by providing exciting, intellectual, broad-ranging programs, speakers and experiences to the entire Tiger community and making sure that we are not just consumers of the educational efforts, but citizens of it."
The Dancy Duffus Award for Outstanding Citizenship recognizes staff members who demonstrate creativity and innovation, imagination and integrity that embodies the RIT spirit. This year's recipient is Gary Cole, academic advisor, Office of the Dean, College of Health Sciences and Technology. Cole serves as an academic advisor to 250 or more undergraduate students in three academic programs. According to his nomination, "he is so affable and helpful to students, that it is rare to see Gary's office without one or more students coming to him with matters that extend beyond academic advising." Another stated, "One of Gary's greatest attributes is his passion for student success. He is committed to helping students complete their degree requirements on time and encourages students to establish and achieve personal and academic goals. Gary is highly respected by his students as well as the faculty members with whom he works."
For more information on the awards, go to the RIT Staff Council website at www.rit.edu/staffcouncil/awards.