RIT hosts conference for young professionals
RIT group hosts third annual Young Professionals in Higher Education Conference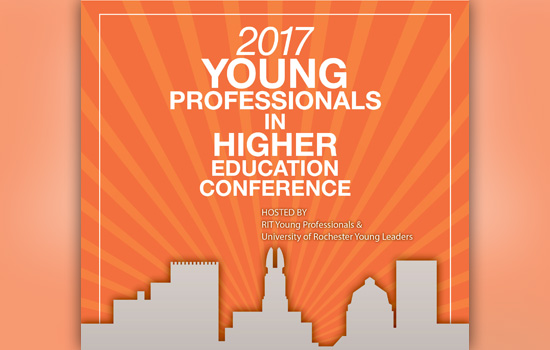 Registration is open for the third annual Young Professionals in Higher Education Conference, March 16 at Rochester Institute of Technology. The day-long conference aims to provide local young professionals with an opportunity to build skills, network and plan for the next step in their careers.
The professional development conference will be held from 8:30 a.m. to 4:30 p.m. March 16 in Louise Slaughter Hall. Registration is $30 and includes lunch.
Hosted by the RIT Young Professionals and the University of Rochester Young Leaders, the conference is geared toward professionals working in higher education.
"This year we are focusing on helping attendees develop themselves as individuals so that they can use those skills to work more effectively in their roles," said Liz Bremer, chair of the Young Professionals in Higher Education Conference committee and assistant director for assessment and academic partnerships for RIT's Multicultural Center for Academic Success. "We are including more components aimed at developing networking skills so attendees can hear how others have used networking to navigate their careers."
The event includes workshops and presentations from respected professionals in higher education and the Rochester community. In addition to stories and lessons from presenters, talks will revolve around building a magnetic brand, networking, leadership development strategies and connecting with your community.
Greg Bennick, a professional speaker, humanitarian activist and award-winning producer and writer, will open the conference with a keynote address at 9:30 a.m. Bremer says, "We're excited to have Greg speak because he uses laughter and excitement as a platform for his material and is working to craft a unique keynote around us with our specific audience in mind."
With more than 200 faculty and staff members, the RIT Young Professionals group aims to support the growth and involvement of RIT faculty and staff age 40 and younger and anyone interested in furthering the development of young professionals at RIT. The group's goal is to promote an individualized career-growth plan, provide young professionals the opportunity to engage with the community and to build community among young professionals at RIT.
Registration for the conference is available online now. To learn more and view the conference schedule, go to https://spark.adobe.com/page/RmWSa49yP1ifL/.