RIT hosts critical thinking lecture April 5
Luis Amaral is keynote speaker for Eugene H. Fram Chair in Applied Critical Thinking event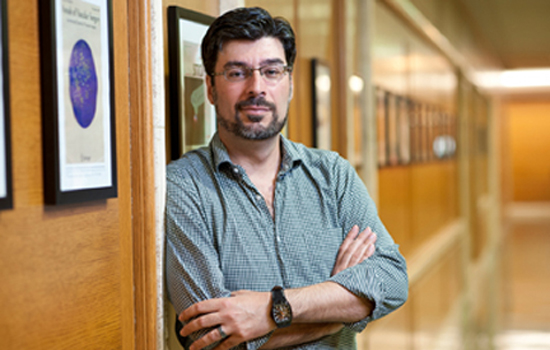 Professor Luís A.N. Amaral of Northwestern University conducts research that addresses some of the most pressing challenges facing human societies and the world's ecosystems—including the mitigation of errors in healthcare settings.
Amaral will be the keynote speaker on "A matter of life and death: When thinking is critical," at the spring Eugene H. Fram Chair in Applied Critical Thinking lecture at Rochester Institute of Technology. Free and open to the public, the event will be held at 4 p.m. April 5, in Webb Auditorium, James E. Booth Hall.
"We are pleased to host Dr. Amaral because his work with complexity spans disciplines; he examines the systems that make our world run," said Jennifer Schneider, the Eugene H. Fram Chair in Applied Critical Thinking and professor at RIT's College of Applied Science and Technology.
"Medicine is practiced in a truly challenging and complex context where we must employ our very best applied critical thinking, or our decisions and actions risk lives," said Schneider. "Medical errors are responsible for thousands of deaths each year, and many of these cases are preventable."
Amaral is co-director of Northwestern Institute on Complex Systems and professor of chemical and biological engineering at Northwestern. He has published more than 150 scientific peer-reviewed papers in leading scientific journals—and his broad research has also delved into many other areas, such as the conditions fostering innovation and creativity and the growth limits imposed by sustainability.
Amarall received a CAREER award from the National Institutes of Health, and was named Distinguished Young Scholar in Medical Research by the W. M. Keck Foundation and Early Career Scientist by the Howard Hughes Medical Institute.
The Eugene H. Fram Chair in Applied Critical Thinking was funded in 2011 by an anonymous RIT alumnus who donated $3 million to honor Fram. A renowned local and national retail expert, Fram is the J. Warren McClure Research Professor Emeritus of Marketing who retired from RIT in 2008 after 51 years of teaching at Saunders College of Business.
For more information, contact Angela Brodie at 585-475-7965 or Angela.Brodie@rit.edu.