RIT included in 2018 'Fiske Guide to Colleges'
Publication cites strong academic offerings, support services, creative outlets for students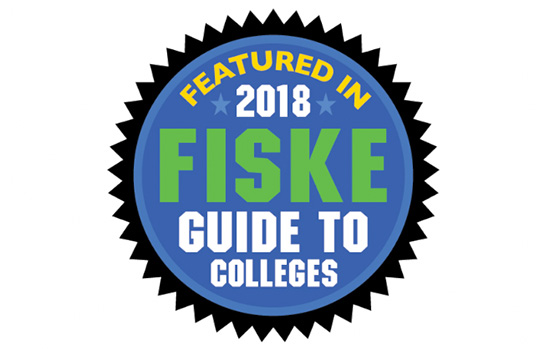 Rochester Institute of Technology is among the universities included in the 2018 edition of Fiske Guide to Colleges.
The guide, created 34 years ago by former New York Times education editor Edward B. Fiske, is a selective, subjective and systematic look at more than 300 colleges and universities in the U.S., Canada and Great Britain aimed at selecting "the best and most interesting." There are more than 4,000 colleges and universities in the United States.
The 2018 edition of the guide highlights RIT's "spotlight on undergraduates," and says "students seeking up-to-date technological preparation will be at home at RIT, and those who are geared up and ready to 'go professional' will be more than satisfied with its extensive co-op program."
RIT "is strong in anything related to computing, art and design and engineering," the publication states. "RIT specializes in carving out niches for itself with unusual programs, and majors are offered in more than 200 fields, from basic electrical and mechanical engineering to packaging science and bioinformatics."
The guide also cites RIT as "a leader in providing access and support services for deaf and hard-of-hearing students." And it goes on to say that "RIT students find plenty of outlets for their creative energy" through such programs at the Media, Arts, Games, Interaction and Creativity (MAGIC) Center, Simone Center for Student Innovation and Entrepreneurship "and more than 400 study abroad programs in 50 countries, including RIT's global campuses" in Croatia, Kosovo, Dubai and China.
The guide cites strong academics across the university's nine colleges and quotes students on their RIT experience. "We graduate with lots of lab/field/hands-on experience," said an imaging science major quote in the guide. Adds a biology major, "Professors have a passion for what they teach, and it shows."