RIT included in 'Fiske Best Buy' list for 2017
Publication cites strong academic offerings, co-op program, services for deaf and hard-of -hearing students and 'diverse atmosphere on campus'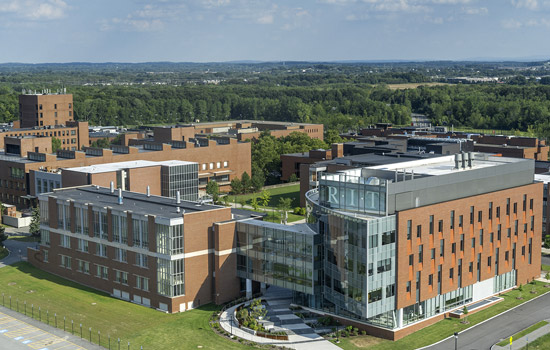 Elizabeth Lamark/RIT Production Services
Rochester Institute of Technology has again been named a "Best Buy" school to the 2017 Fiske Guide to Colleges, one of only 26 private and 21 public universities in the United States, Canada and the United Kingdom to earning that distinction this year.
The guide, created 33 years ago by former New York Times education editor Edward B. Fiske, is a selective, subjective and systematic look at more than 300 colleges and universities in the U.S., Canada and Great Britain aimed at selecting "the best and most interesting." There are more than 4,000 colleges and universities in the United States.
The 2017 edition of the guide highlights RIT's "spotlight on undergraduates," its position as a "leader in providing access services for deaf and hard-of-hearing" students through its National Technical Institute for the Deaf, and the university's "focus on career-oriented and technology-based academics."
"Those who are geared up and ready to 'go professional' will be happy to know that the school places more than 3,000 juniors and seniors in full-time paid positions through its co-op program," the guide says.
"RIT specializes in carving out niches for itself with unusual programs, and majors are offered in more than 200 fields, from basic electrical and mechanical engineering to packaging science and bioinformatics," the guide says. And it adds, "The unique mix of art, engineering, business, and science students, along with the large number of deaf students, creates a diverse atmosphere on campus."
The guide also quotes students on their RIT experience. "Students are dedicated and career-oriented," said an imaging science major quoted in the guide. "We graduate with lots of lab/field/hands-on experience." And a biology major added, "Professors have a passion for what they teach, and it shows."
Topics