RIT joins health screening project for 3-year-olds
Increasing access to GROW Rochester health and developmental screenings could help improve early childhood learning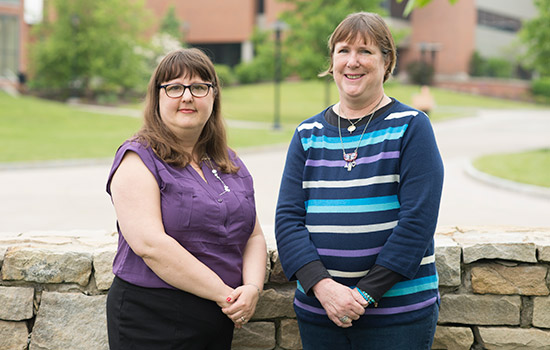 Rochester Institute of Technology and GROW Rochester have teamed up on a citywide project to help increase the number of 3-year-olds in the city receiving timely and necessary health and preventive services. Early screening to assess health issues and providing suitable interventions could increase the likelihood of children being well-prepared for, and doing well, in school.
Identifying 3-year-olds in the city for health assessment screenings has been a challenge, with only about a third of the children readily accessible in early preschool programs or other formal and easily identified organizations. For the remaining children, GROW Rochester is intent on finding multiple ways to increase parental and community awareness of and access to screening, assessment and follow up services.
RIT's John D. Hromi Center for Quality and Applied Statistics (CQAS) is participating with GROW Rochester and the Children's Institute providing process support on this major health and developmental screening project with the goal of engaging a much higher percentage of families with 3-year-olds. The team intends to increase access from 1,000 children and families to 3,000.
Generally, by the time children are 3 they have completed well-child visits. GROW Rochester will complement existing care by "going to where the children are" and provide screenings for vision, hearing, speech, dental, social-emotional, cognitive, motor and other developmental needs that could impact learning if not checked prior to beginning school, said Rebecca Ziebarth, CQAS project manager.
"The partnership between the GROW Rochester and RIT will benefit Rochester's children today and in the future," said Ziebarth. She and Margi Ochs, director of Business Development and Lean Six Sigma Master Black Belt, are leading the RIT portion of the project. "If we can catch health challenges when children are young, evidence shows that they are more likely to stay in school and excel. We are proud to be partners with GROW Rochester and the Children's Institute in this important project."
The Center for Quality and Applied Statistics is part of RIT's Kate Gleason College of Engineering, and it was approached for its expertise in continuous improvement and Lean Six Sigma methodology. CQAS will facilitate data collection and evaluation toward improving outreach and overall process effectiveness.
CQAS will audit current work processes to identify or clarify critical challenges by working with key stakeholders through interviews and focus groups. Emphasis will be on issues uncovered during the pilot year and the logistics of implementing recommendations. The team will also monitor the execution of process improvements to insure effective implementation and to identify additional adjustments.
GROW Rochester is an initiative led by the Children's Institute, a Rochester nonprofit that seeks to support service providers to strengthen social, emotional and physical health for children and families. The initiative, originally launched in July 2015, set a goal of screening all 3-year-old children in Rochester to address potential health and developmental concerns prior to enrolling in school. It is part of ROC the Future's collaborations with 50 community agencies to support children from "cradle to career." Over the next three years, screening could impact nearly 2,400 children and provide important health and prevention information for parents, teachers and physicians. Funding for the project is through a grant from the Greater Rochester Health Foundation.
"The collective impact efforts of Roc the Future, Rochester-Monroe Country Anti-Poverty Initiative and GROW Rochester are bringing out the best in the community," said A. Dirk Hightower, executive director of the Children's Institute. "When I think of our team, I am in awe of what has been accomplished together and I am keenly aware that we have "miles to go" and many more partners to add, before we will be able to celebrate our community success—85 percent of our children and families, as well as schools, and the community are kindergarten ready. The good news is that we are on our way."