RIT joins the nationwide college completion initiative Degrees When Due
RIT aims to reengage more people with some college, but no degree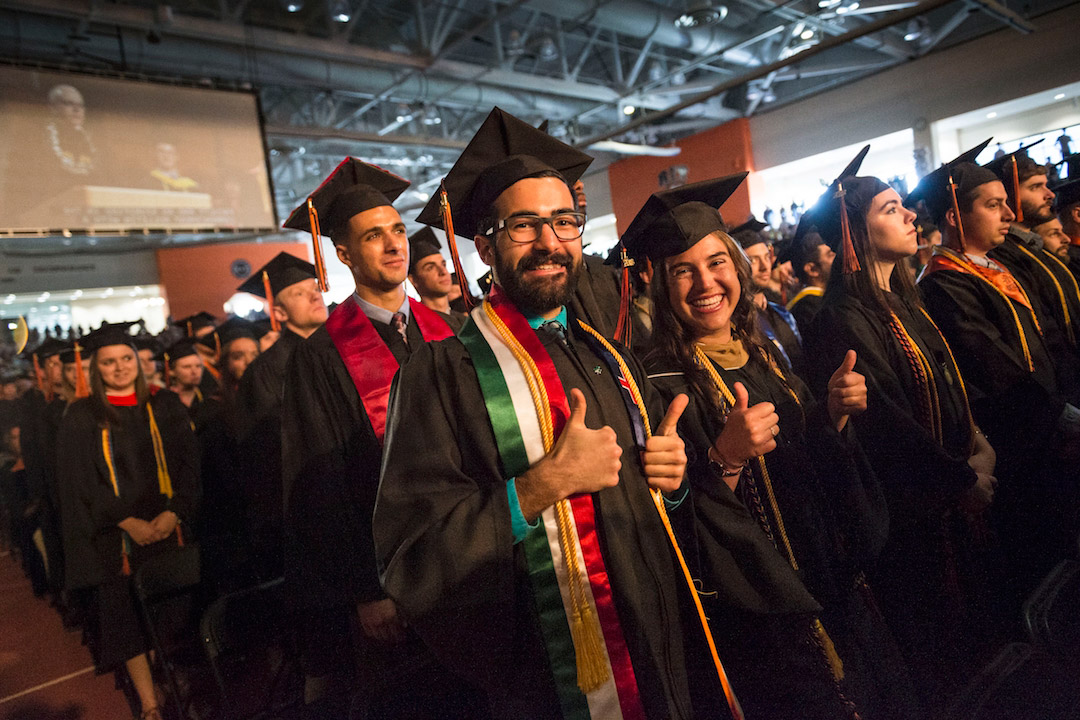 Elizabeth Lamark
Rochester Institute of Technology is joining Degrees When Due, a national initiative of the Institute for Higher Education Policy (IHEP), to help people who have some college credits complete their degrees.
Colleges and universities from 20 states are participating in the Degrees When Due initiative, which aims to reach the nearly 4 million near-completers and uncredentialled completers in the United States who stopped college for financial reasons, family obligations or a variety of other reasons. Degree attainment is critical for tomorrow's workforce, where 65 percent of all jobs will require a degree or credential by the year 2020, according to the initiative.
By joining the initiative, RIT will learn best practices in degree reclamation and provide targeted support while re-engaging students who have paused, or "stopped out," their studies.
"We have joined this partnership to shine a positive light on RIT's intentional degree completion outreach – and to benefit from the collective experience of this high-quality network," said James Hall, dean of University Studies and executive director of RIT's School of Individualized Study (SOIS).
Starting in 2016, RIT began reaching out to non-completers from the last 10 years who left RIT with more than 60 percent of credit hours needed for graduation. More than 20 RIT alumni have already completed a bachelor's degree through the Completer Project in SOIS, with another 25 currently working toward a degree.
Through Degrees When Due, RIT will have access to a variety of resources to help more students complete their degrees, including an interactive online tool and live coaching to guide staff. Resources will also help the university audit previously earned and transfer credits to determine the most efficient pathway to graduation for students.
The initiative aims to benefit the nearly 250,000 individuals in New York state who have been identified as having some college credits, but no awarded degree.
"Our Degrees When Due institutional and state partners are building a strong pathway to degree attainment for all students, including by providing an on-ramp for those who have paused their studies or 'stopped-out,'" said IHEP President Michelle Asha Cooper. "IHEP enthusiastically welcomes the selected institutions and states to this effort. Through this initiative, they will increase student success, serve a diverse set of student populations and join us in addressing one of higher education's most pressing challenges: degree completion."
Sydney Wyse, project coordinator for RIT's Completer Project in SOIS, said that many of the universities partnering with Degrees When Due are public institutions doing degree reclamation on a massive scale. Wyse hopes to learn from these colleges that have a lot of experience reengaging students.
"Right now, we are focusing on reengaging RIT's completers, but in the future, we can help near-completers in the region who have credits from other colleges," said Wyse. "The challenges are different between private and public institutions, so as we convert a higher percentage of students we hope to be a leader for other private universities."
To learn more, go to the Degrees When Due website.
Want to finish your degree?
Contact RIT's School of Individualized Study at 585-475-2234 or sois@rit.edu.
Related News
Topics