RIT launches MicroMasters program with edX
Innovative program offers flexible online studies for career advancement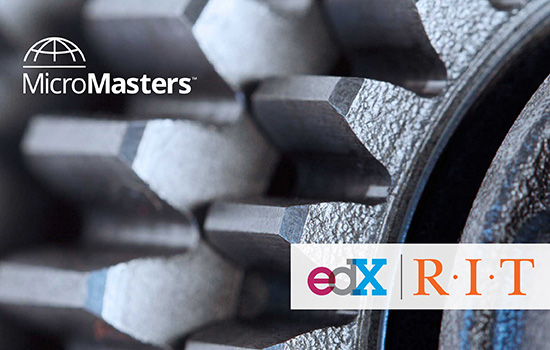 Rochester Institute of Technology is taking part as a leader in an innovative approach to education — the MicroMasters program of edX, the leading nonprofit online learning destination, with more than 90 global partners, including some of the world's top universities.
MicroMasters is a new category of master's-level online education that offers a pathway to credit. The programs are designed for learners looking for in-demand knowledge to advance their careers or follow a path to an accelerated, fully accredited advanced credential.
RIT's MicroMasters in Project Management will provide learners with the knowledge and skills needed to effectively manage a team in any industry. With the program, RIT is helping to meet the demand of a growing field that sees 1.5 million new project management jobs being created each year, according to the Project Management Institute (PMI).
The graduate-level online sequence consists of three modules and a final capstone exam, equivalent to a semester's worth of work. Those who earn the MicroMasters can then build on their work by applying to RIT's School of Individualized Study for a customized master's degree in professional studies or an advanced certificate in project management. Either degree can be completed by studying fully online or on campus.
"This is terrific opportunity for RIT to engage with edX's more than 8 million learners and show how RIT can help them advance their careers," said Jeremy Haefner, RIT provost and senior vice president for Academic Affairs. "The MicroMasters program will allow those who might not otherwise have the opportunity to pursue an academic credential faster and at a reduced overall cost."
The RIT MicroMasters consists of modules in Best Practices for Project Management Success, Project Management Lifecycle and International Project Management. The program is 32 weeks of instruction over a 45-week period with the first modules beginning in January. Details and enrollment information can be found rit.edu/ritonline/mm-pm.
While developing the new MicroMasters program, edX and RIT consulted with industry leadership to understand their challenges, both in hiring and developing a smarter, more capable workforce. Leadership expressed a need for project managers who can talk the language of both the customer and the engineer.
MicroMasters is an important modular and flexible offering for the digital age and promises to serve as academic currency in a continuous, lifelong-learning world. The program also supports an inverted admissions process, allowing learners everywhere to try master's-level course work from RIT before committing significant time and money toward applying for and enrolling in a master's degree.
"We are honored to work with RIT to launch MicroMasters, marking a new and exciting step toward furthering our shared mission to expand access to high-quality education," said Anant Agarwal, CEO at edX and professor at MIT. "MicroMasters provides the next level of innovation in learning and meets the needs of learners, universities and employers in today's on-demand, tech-driven world."
Fourteen universities around the world are offering MicroMasters in other areas of study, including MIT, Columbia University, University of Michigan, Thunderbird School of Global Management at ASU and Indian Institute of Management Bangalore.
For a full list of available MicroMasters, go to edx.org/micromasters.
Haefner said RIT Online and Teaching and Learning Services from the Innovative Learning Institute will continue to explore and design ways in which RIT can engage the millions of learners accessing edX to show them how the university can help advance their education and careers.