RIT launches pilot composting program
Pilot program intends food waste to be used to produce energy, not landfill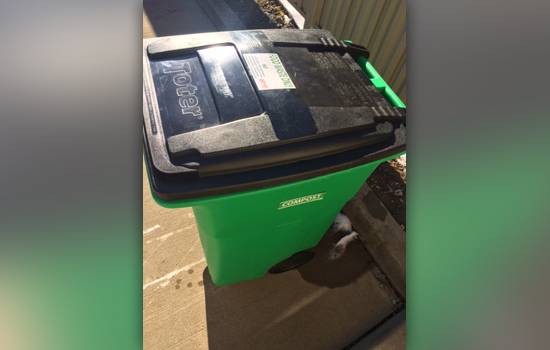 A student-run pilot program to collect food waste has launched on the Rochester Institute of Technology campus with hopes of turning that waste into energy.
"We had a petition saying RIT needs composting," said Evan Zachary, leader of the project initiated by the Student Government sustainability committee.
"The stream we're hoping to tap into is food waste—whatever food is left over on your plate, or the bones from your chicken," he said. "If it was ever alive, you can compost it. We'll take fruits and vegetables, bread and pasta, we can take dairy, meat and bones as well since it is headed to a digester."
Not accepted in this pilot are paper towels, napkins or paper plates.
Food waste is already being collected at Gracie's and the Dining Commons— more than 2,500 pounds a week from Gracie's alone, Zachary said. But the program isn't open to faculty or most staff.
So this month, bright green totes have been placed around University Commons, and fliers have been posted encouraging students living there to sign up to participate by disposing their food waste in them. The totes will be collected and checked to make sure nothing other than food waste is inside, and the contents will ultimately be taken to an anaerobic digester in Linwood, about 20 miles southwest of campus. The material produces gas that can be burned for energy and sludge that can be used as fertilizer.
"We want to gather enough data to show administration most people know how to do this in hopes of catching up to the standard for waste disposal," said Zachary, a third-year environmental sustainability, health and safety major from Wexford, Pa. "It's worse to compost poorly than to not compost at all."
For example, plastic isn't accepted, and metal could actually damage the equipment that helps convert the waste into gas. Other members of the Student Government sustainability committee—Jeremy Clink and Tanner Traughber—plan to collect the bins weekly for contamination control, making sure only appropriate waste is inside, Zachary said.
Once there is enough evidence of student support and a determination that the appropriate items are being discarded, the students will ask the administration to expand the program to other residences and eventually dining halls. They hope compost bins will be placed in Greek Row in the fall.
"President Destler has aimed to make RIT a carbon-neutral college by 2030," Zachary said. "This helps keep us on track for that."
For more information on the program, or to sign up to participate, contact Zachary at ecz2023@rit.edu.
Topics