RIT launches Tessoni Endowed Chair in Accounting
Longtime faculty member receives highest academic honor from RIT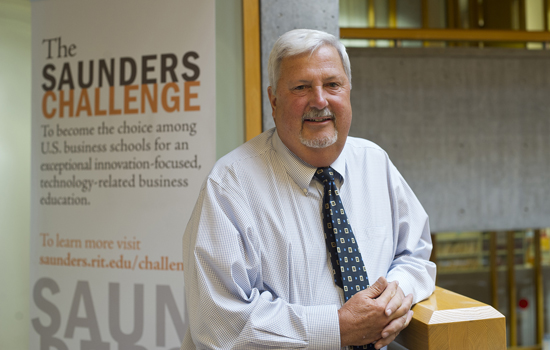 A. Sue Weisler
Saunders College of Business at Rochester Institute of Technology announces the Daniel D. Tessoni Endowed Chair in Accounting. Tessoni has been an esteemed member of the RIT faculty since 1974. He will be honored at an invitation-only event from 5 to 7 p.m. Tuesday, April 21, at Country Club of Rochester.
Tessoni is the Saunders College's Forman Chair for Collaboration and has been an astute practitioner of the art of accounting in both the classroom and in his role as a practicing CPA. He has served as a board member for several corporations including International Textile Group, Genesee Regional Bank, Western New York Energy LLC, and ACC Corp.
"I am so pleased that Dan is being honored in this way," said Saunders College Dean Jacqueline Mozrall. "This endowed chair is a testament to Dan's significant contributions and the impact he has made on so many students. This chair will be a reflection of Dan—a dynamic professor who delivers contemporary and applied accounting curricula supported by meaningful experiences with business and industry."
According to Tessoni, many accounting graduates from Saunders College are successful alumni who serve in the highest levels of their organizations as presidents, CEOs, CFOs, founders and partners. "My mentoring doesn't stop in the classroom; I continue to have a relationship with many of my former students," said Tessoni, a resident of Pittsford.
"This is a really high honor for me and a humbling recognition of my efforts in teaching students for the past 40-plus years. Accounting is fundamental in business degrees and the fact that I have real world experience consistently resonates with the students. They buy into it very quickly when they realize that what's being discussed is going to have an impact on their lives, their wealth, their compensation."
Local business entrepreneur E. Philip Saunders, owner of Saunders Management Co. and benefactor of RIT's business college that bears his name, provided the lead gift to establish the endowed chair in accounting.
"The constant comments I've heard from students who have taken classes with Dan found it a joy to learn from a professor who could make learning and accounting an enjoyable experience," said Saunders. "He has the kind of personality that is always uplifting; the glass is not only half full, but brimming over. He cares deeply about his students and what happens to them."
Joseph Lobozzo, who earned his Executive MBA degree from RIT in 1995, agrees. The founder and former CEO of JML Optical Industries Inc. said he first met Tessoni soon after Labor Day in 1993.
"I was in the very first class of EMBA students at RIT," Lobozzo recalled. "He came in and gave us an accounting lecture and at the end of nearly four hours, he asked us: What is the goal of any firm? It's to maximize the wealth of the shareholder—end of story.
"I remember everything he said that day. He literally blew us away, and all 24 of us, many executives from Xerox at the time, gave him a standing ovation. Two weeks later we did the same thing. His passion, experience and heart for teaching excellence touched our lives and literally thousands of others. Dan is one in a million."