RIT leader voted prime minister of Libya
Mustafa Abushagur begins role as country's leader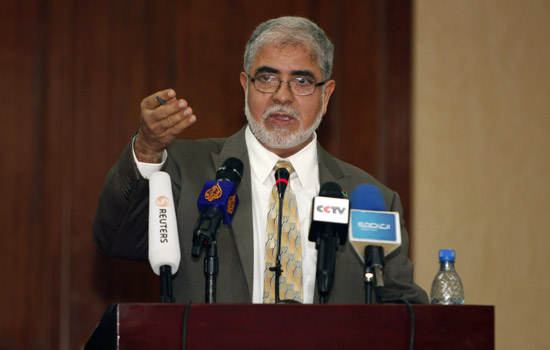 A professor of microsystems engineering at Rochester Institute of Technology and former president of RIT Dubai was elected prime minister of Libya by its parliament on Sept. 12.
Mustafa Abushagur had been deputy prime minister of his homeland since November 2011.
"Dr. Abushagur's appointment as prime minister of Libya is a reflection of his exceptional leadership capabilities that we, here at RIT, experienced during his time as a faculty member and most recently as the founding president of RIT Dubai," says RIT Provost Jeremy Haefner. "We are so proud of his new role and we certainly wish him great success with the challenges he faces."
Some of those challenges include quelling recent unrest following Tuesday's attack on the U.S. consulate in the Libyan city of Benghazi. Washington's ambassador to Libya and three other Americans were killed in the attack.
"He has taken on the greatest challenge of his life by assuming this role," says President Bill Destler.
Abushagur is the first elected head of government since the removal of dictator Moammar Gadhafi. As a Libyan refugee, Abushagur was on a "Most Wanted" list in the country because of opposition to the latter's regime. The regime was toppled by rebels in 2011 and Gadhafi was killed last October. Abushagur said at that time he felt safe enough to return to his homeland for the first time in 32 years.
Abushagur joined RIT in 2002 as a professor of electrical engineering and director of the university's microsystems-engineering research and education initiatives in the Kate Gleason College of Engineering. He later became founding director of the college's microsystems engineering Ph.D. program. He became founding president of RIT Dubai in 2008.
Abushagur came to RIT from the University of Alabama at Huntsville, where he was professor of electrical and computer engineering and professor of optical science and engineering. He has taught at the University of Rochester and the Association for the Institution of the Free University of Nuoro in Italy.
A native of Libya, Abushagur earned doctoral and master's degrees in electrical engineering from California Institute of Technology and a bachelor's degree in electrical engineering from Tripoli University. He founded LiquidLight Inc., a developer and manufacturer of optical network systems for the metro-access market, and Photronix, of Malaysia, a maker of fiber-optic components. He has consulted for the U.S. Army Missile Command, NASA, Boeing Co. and other firms, has published numerous papers and holds several patents.
Topics