RIT makes mark on Fringe Festival
Free shuttle buses offered for RIT students for weekend events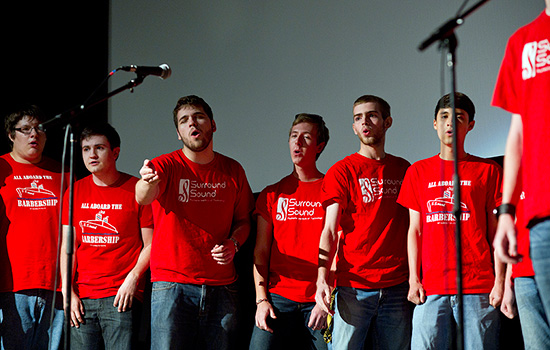 A. Sue Weisler
More than two dozen shows and exhibits involving Rochester Institute of Technology students, faculty, staff and Osher members are part of the fifth annual First Niagara Rochester Fringe Festival, which kicks off Thursday. More than 500 eclectic performances and displays are planned through Sept. 24 in downtown Rochester.
RIT is a founding higher educational sponsor of the community collaborative event. The 10-day festival is a celebration of the performing and visual arts in downtown Rochester, featuring world-renowned performers as well as up-and-comers.
Free shuttle buses will be available for RIT students during the weekends.
All RIT-related events are free and will be held at the Little Theatre and the Little Café, 240 East Ave., and Gallery r, 100 College Ave. Performances at other venues may require tickets.
RIT-related events this year include a performance by faculty member Thomas Warfield, a world-renowned dancer, singer, actor, choreographer, director, producer, educator, activist and poet; performances by the RIT Ukulele Club; numerous student singing groups; and dances from the Asian Culture Dance Crew and RIT Bhangra.
Another RIT attraction is Algorave Lite: Live Coding Algorithmic Dance Music, where musicians and coders create music by programming it in front of a live audience.
Here's a sampling of other RIT festival Fringe offerings:
Friday, Sept. 16:
5:30-6:30 p.m. Al Biles and GenJam play jazz with improvisation on tunes from swing to bop to Latin and pop. GenJam is computer software that evolves its musical ideas in real time.
5:30-6 p.m. Algorave Lite: Live Coding Algorithmic Dance Music, musicians and coders create music by programming it in front of a live audience.
7-8 p.m. WADAIKO! Japanese Taiko Drumming. Listen to the exciting beats, see the choreography and have a chance to learn about this history and stories behind the songs.
8-9:30 p.m. The Galileo Band. Easy-going, fun music that's perfect for dancing or singing along.
Saturday, Sept. 17:
11:30 a.m.-4 p.m. RIT School of Film & Animation 2015 Student Honors Show. This film will depict many of the films and animations student produced last year. Many of the works in the honors show receive festival screenings and awards.
5-6 p.m. RIT A Cappella Hour, featuring Eight Beat Measure, Brick City Singers, RIT Surround Sound and Vocal Accent.
5:30-6:30 p.m. Al Biles and GenJam
6:30-6:45 p.m. RIT Bhangra dance team, representing the culture of Punjab, India.
7:30-8 p.m. RIT Players Fringe Show, a short play written and performed by RIT Players.
9-10 p.m. Sup? The College Rock Band from RIT. Billed as an American alternative rock trio formed at RIT in 2013 by students Tom Winegar, Josh Bassig and Josh Willsey. Their music is described as a blend of modern rock, '90s alternative/punk and '70s groove.
Sunday, Sept. 18:
11:30 a.m.-12:30 p.m. Dances from East Asia, featuring the Asian Culture Dance Crew, founded in 2012. They concentrate on learning contemporary music from Asia, such as k-pop, j-pop and c-pop.
1:15-2:15 p.m. Improvisation with Sound and Image. Designers and musicians improvise with visuals and sound. No two performances are the same, and audience participation is encouraged.
3-4:15 p.m. Thomas Warfield – Creating Dance/Building Relationships. His presentation/workshop involves the art of dance both live and virtual, in both demonstration and interaction, as a way of guiding us towards a deeper awareness of our own being.
5-6 p.m. Resonant Freqs: Surveying the Spectrum. A unique group of "interactivators" whose mission is to create good vibrations by engaging audiences to interact with their music.
7:30-8:30 p.m. RIT Big Shot No. 32: Kodak Tower, 343 State St. While not officially part of the festival, hundreds will gather nearby to participate in RIT's Big Shot. Often described as "painting with light," the Big Shot, led by RIT's School of Photographic Arts and Sciences, relies on volunteers to provide the primary light source for the image. Wear dark clothing and bring a flashlight or electronic flash equipment.
Friday, Sept. 23:
5:30-6:30 p.m. Al Biles and GenJam.
5:30-6:30 p.m. Farewell to Dawn: A Mixed-Reality Dance Performance in a Virtual Space. Two dance experiences include a physical space and a virtual stage. The performance is achieved using a virtual reality theater platform that integrates motion capture and augmented reality with a distributed 3-D gaming engine.
7-7:30 p.m. The Brick City Singers, RIT's curricular choral ensemble, perform a variety of repertoire.
9:30-11 p.m. White Creek, a film by independent filmmaker John W. Yost '04 (professional photographic illustration, film and animation). It depicts a place where feudalism remains intact and people struggle to break free from debt.
Saturday, Sept. 24:
11:30 a.m.-noon. A Little Ukulele Concert. RIT's Ukulele Club performs both classic and contemporary songs.
Noon-12:30 p.m. RIT Vocal Accent. All-female a cappela group with a repertoire of strong, empowering and emotionally charged music.
12:45-1 p.m. A Portrait of Words. An intimate portrayal of life unseen and perhaps unheard.
1-1:50 p.m. Dangerous Signs: Hands Full of Shakespeare. An American Sign Language performance group that uses mime, dance, sign and song to illustrate community in collaboration. Shakespeare-inspired performance pieces will vary from Broadway show tunes to traditional pieces.
1:30-2 p.m. RIT Surround Sound A Cappella. All-male barbershop group, including modern tunes with a barbershop twist.
2:30-3 p.m. RIT's Proof of Purchase Co-ed A Cappella. The original co-ed a cappella group from RIT.
3-4 p.m. Resonant Freqs: Surveying the Spectrum.
3:30-4 p.m. Encore A Cappella Group. An all-female group who sing through unaccompanied music.
5-6 p.m. Out of Sync. Abstract art and avant-garde film are brought into the realm of live performance. Chuck Miller brings film loops he has painted and clips them together to produce an evolving, improvised live performance.
7-10 p.m. RIT Improv: On the Fringe. Three teams, Work in Progress, The Improvessionals, and BrainWreck Improv will demonstrate the art of improvisation storytelling in a series of short skits.
In addition to performances, RIT will have three exhibitions on display throughout the festival:
RIT Photo House Display, an exhibit of photos from creative members of RIT's special-interest housing community, at the Little Theatre Café Lobby.
Denton Crawford: Savage Sanctuary, an exhibition that critiques ancient and popular mythologies, at Gallery r.
Osher Lifelong Learning Art Display, exhibit from the artists belonging to the Osher Lifelong Learning Institute, at the Little Theatre Café Lobby.
For a complete schedule of RIT Fringe events (and which performances will be interpreted) as well as the shuttle schedule to and from RIT, go to www.rit.edu/fringefest or contact RIT Assistant Vice President of Special Events, Lynn Rowoth, at 585-475-7408 or lynn.rowoth@rit.edu.