RIT mourns U.S. Rep. Louise Slaughter, lowers flags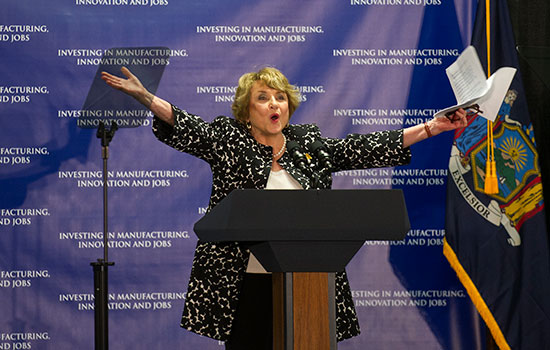 A. Sue Weisler
Rochester Institute of Technology lost a great friend and tireless advocate with the passing of Congresswoman Louise Slaughter.
Congresswoman Slaughter, who was 88, died today (March 16, 2018) in Washington, D.C. She had represented the district since being elected in 1986.
"We at RIT are deeply saddened by this loss," said RIT President David Munson. "Congresswoman Slaughter was a wonderfully engaging person and a tireless advocate for this university and the entire region she represented. She was a champion, fighting for what was right, and what was needed. And her energy and passion inspired us to think big, helping spur Rochester to become a national center for photonics, manufacturing, sustainability and other scientific research. We have all lost a wonderful friend."
Among her many contributions to RIT, Slaughter successfully advocated for federal funding to build its Center for Integrated Manufacturing Studies and secured a valuable research program there. In her honor, RIT renamed the building Louise Slaughter Hall in 2001.
At the building dedication, Slaughter said, "One of my goals, as congresswoman, has been to prepare my district for the 21st century."
Deborah Stendardi, RIT's vice president for Government & Community Relations, called Congresswoman Slaughter "a mentor to me throughout all my years here at RIT and a very dear and wonderful friend. I will miss her. Her legacy as a tireless advocate and tenacious champion will live on in my heart, as will her impact on RIT and the greater Rochester community that she loved so deeply."
Nabil Nasr, associate provost and director of Golisano Institute for Sustainability (GIS), recalled the congresswoman's enthusiastic support for RIT's fledgling plans for the sustainability institute.
"She was a wonderful person, a great champion for higher education and the community, and particularly for the Golisano Institute for Sustainability and the Center for Integrated Manufacturing Studies," Nasr said.
Congresswoman Slaughter also worked behind the scenes to help Rochester secure several federal Manufacturing USA projects, including one in photonics and one in sustainable manufacturing. And for several years, RIT's Center for Media, Arts, Games, Interaction and Creativity (MAGIC) hosted the kick-off event for the Congressional App Challenge, which she sponsored. The event promotes innovation in the fields of science, technology, engineering and math, and encourages high school students' creativity and increased participation in these STEM education fields.
She was also a proponent of RIT's work in cybersecurity, saying, "We need to have the best and brightest computer science experts protecting our government's information infrastructure. … I'm proud that RIT will continue playing a leading role in this effort following its designation as a National Center of Academic Excellence in Cyber Defense Research."
Congresswoman Slaughter visited campus to celebrate the university's contribution to the first detection of gravitational waves from colliding black holes by the Laser Interferometer Gravitational-wave Observatory, presenting researchers in RIT's Center for Computational Relativity and Gravitation with copies of her Congressional Record statement of Feb. 25, 2016, commending their role in the discovery. And she helped procure federal funding for research to combat the critical rise in antibiotic-resistant bacteria and advocated in bringing that funding to RIT and the Rochester region.
In 2010, Congresswoman Slaughter was given the RIT Presidential Medallion in recognition of her many contributions that have made a positive difference in ensuring the health and vitality of RIT's National Technical Institute for the Deaf over the years and in advancing causes important to deaf and hard-of hearing communities throughout western New York and the nation.
"Recognizing the unique value of RIT/NTID's mission in educating deaf and hard-of-hearing students, Louise was a staunch advocate for funding for our college, said NTID President Gerry Buckley. "She was an honorary member of NTID's National Advisory Group, helped launch our Task Force on Health Care Careers for the Deaf and Hard-of-Hearing Community, worked in support of the Americans with Disabilities Act, supported legislation that requires captions on TV programs and more."
Mary Beth Labate, president of the Commission on Independent Colleges and Universities, called Congresswoman Slaughter "a fierce advocate for students. She understood the power of higher education to improve lives and revitalize regional economies. A scientist herself, with degrees in microbiology and public health, her legacy includes many contributions to higher education nationally and in the Rochester region. She was a strong leading advocate for student aid programs and for science, technology, engineering and mathematics (STEM) education. … We are heartbroken over the loss of such a tireless advocate and courageous leader."
Bernard Hurwitz, associate vice president of RIT for NTID Administration, served as an intern in her office in 1989, during his third year of college.
"I turned down an offer to intern for Senator (Ted) Kennedy in order to work for Louise because I thought I would get more responsibility and be closer to the action, and I was right," Hurwitz said. "She was larger than life. She never once forgot a name, a face or a connection, or made you feel like you weren't the most important person in the room. And of course, she loved NTID and we loved her. It was always special to go back to her office – you could feel her energy even if she wasn't there, and that's how I feel right now."
The flags have been lowered to half-staff in Congresswoman Slaughter's memory.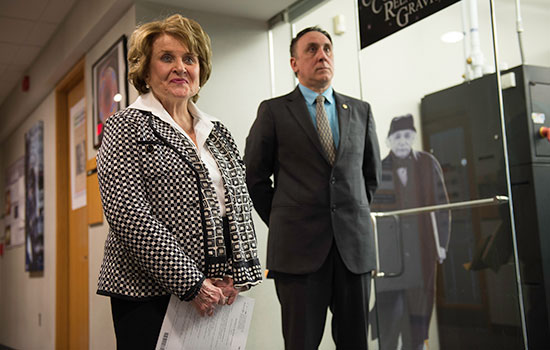 Austin DePalma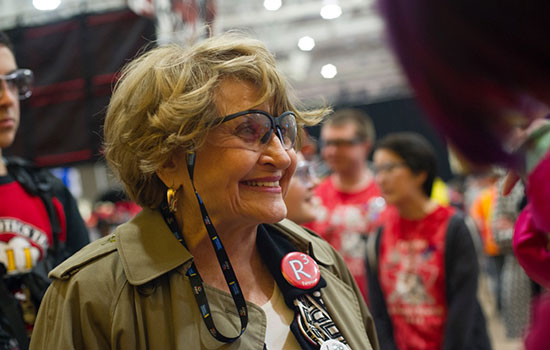 A. Sue Weisler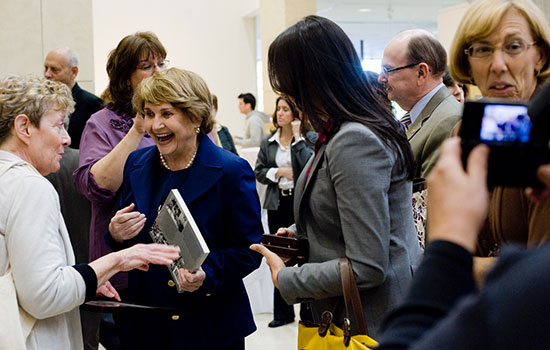 A. Sue Weisler