April 17, 2015
by Ellen Rosen
RIT named among nation's leading 'green colleges'
It's the university's fifth consecutive placement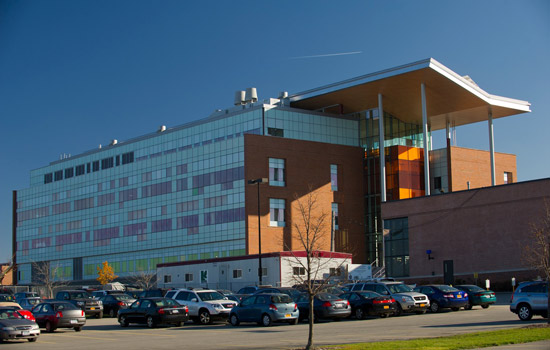 Rochester Institute of Technology, for the fifth consecutive year, has been named one of North America's greenest universities by The Princeton Review.
The company's 2015 Guide to 353 Green Colleges evaluates colleges and universities on environmentally related policies, practices and academic offerings. In partnership with the U.S. Green Building Council, best known for developing the Leadership in Energy and Environmental Design (LEED) standard for green building certification, The Princeton Review has produced lists of North America's green colleges since 2010. The guide is an alphabetized list of schools that meet The Review's guidelines for being green and provides no ranking.
"We strive to lead by example, as shown by our LEED Platinum certified Golisano Institute for Sustainability," said Enid Cardinal, senior sustainability adviser to the president. "RIT is committed to sustainability through our research, academics and operations."
The guide features profiles of the colleges and universities that provide application information plus facts, statistics and write-ups reporting on the schools' environmentally related policies, practices and academic offerings.
The Princeton Review chose the colleges based on "Green Rating" scores (from 60 to 99) that the company tallied in summer 2014 for 861 colleges using data from its 2013-14 survey of school administrators. The survey asked them to report on their school's sustainability-related policies, practices and programs. More than 25 data points were weighted in the assessment. Schools with Green Rating scores of 83 or higher made it into this guide. Most of the schools (347) in this edition are in the United States. Five are in Canada; one in Egypt. Information about Princeton Review's Green Rating and its Green Honor Roll saluting schools that received the highest possible rating score, 99, is at the Princeton Review Website.
In the guide's profile, RIT is commended for having 100 percent of its new construction LEED-certified, for offering sustainability-focused degrees, employing a sustainability officer, buying local/organic food, diverting waster and using renewable sources for energy.
The 218-page 2015 Guide to 353 Green Colleges —the only free, comprehensive, annually updated guide to green colleges and universities—can be downloaded.
Topics