October 25, 2012
by Matt Gregory
RIT named 'Bicycle Friendly University'
League of American Bicyclists adds RIT to list as bronze-level university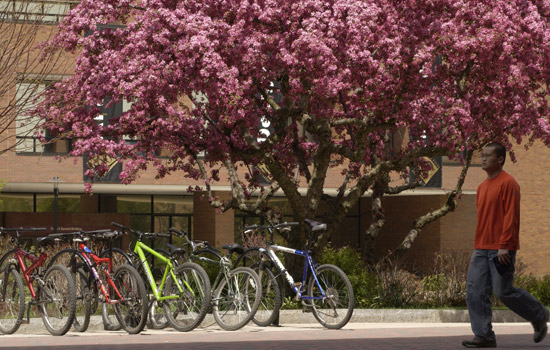 The League of American Bicyclists has named Rochester Institute of Technology a Bicycle Friendly University.
The Bicycle Friendly University program recognizes institutions of higher education for promoting and providing a more bicycle friendly campus for students, staff, and visitors. RIT was one of nine universities added to the list at the bronze-level, which was announced Oct. 24. RIT joins 44 other universities from 25 states, including Cornell University, Duke University, and Yale University.
"It is very rewarding for RIT to receive this honor," says Randy Vercauteren, RIT's director of parking and transportation services. "We've achieved significant progress in making RIT a bicycle friendly campus, but we have a lot of work to do moving forward. We want to continue to make RIT a safe environment for everybody, including bicyclists, to get to their destinations quickly."
Promoting cycling as a means of transportation has been one aspect of RIT's sustainability mission, which includes the dissemination of reusable water bottles to all incoming freshmen.
"Improving and promoting alternative transportation on campus and throughout the community is such an important part of our sustainability efforts, especially since the emissions associated with commuting to campus make up almost a third of RIT's total greenhouse gas emissions," says Enid Cardinal, senior sustainability advisor at RIT.
The Bicycle Friendly University program was created with the goal of inspiring action to build healthy, sustainable and livable institutions of higher education. Applicants are evaluated in five primary areas: engineering, encouragement, education, enforcement and evaluation/planning. The specific criteria include things such as secure bike parking, bike lanes and paths and the distribution of safety information, among others.
Vercauteren says that covered bike racks, dedicated bicycle paths and the presence of bike racks on the front of RTS buses were all factors that contributed to RIT earning this distinction. Rochester was recently named a Bicycle Friendly Community by the League of American Bicyclists.
"In addition, the RIT community appreciates how much the cycling club has done to help promote bicycle friendliness, including their mobile bike repair shop that has been set up at various locations across campus," he says. "Promoting bicycle friendliness at RIT has been a collaborative effort."
Topics