RIT named 'Top College for Diversity' and 'Diversity Champion' by INSIGHT Into Diversity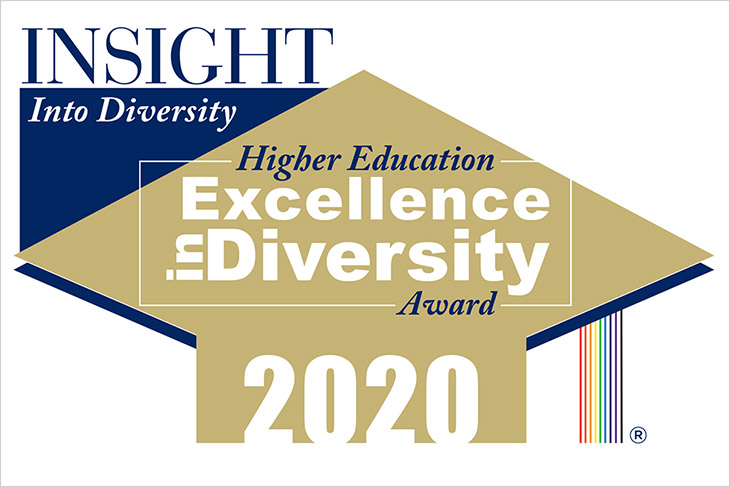 INSIGHT Into Diversity magazine has recognized Rochester Institute of Technology as a 2020 Higher Education Excellence in Diversity (HEED) Award recipient and a 2020 Diversity Champion. This marks the seventh year in a row RIT has been named a HEED Award recipient and sixth consecutive year as a Diversity Champion.
As a recipient of the annual HEED Award, a national honor recognizing U.S. colleges and universities that demonstrate an outstanding commitment to diversity and inclusion throughout their campus, RIT will be featured along with 89 other recipients in the November 2020 HEED Award issue of INSIGHT Into Diversity magazine.
INSIGHT Into Diversity also recognizes selected institutions — those that rank in the top tier of HEED Award recipients — as Diversity Champions. These institutions exemplify an unyielding commitment to diversity and inclusion throughout their campus communities, across academic programs, and at the highest administrative levels. Known for visionary leadership, Diversity Champions are institutions that serve as role models and set the standard for thousands of other U.S. college campuses striving for inclusive excellence. 
"RIT is a visionary leader among institutions of higher education striving for inclusive excellence throughout their campus," said Lenore Pearlstein, publisher of INSIGHT Into Diversity magazine. "As a Diversity Champion school, RIT exceeds everyday expectations by developing successful strategies and programs that serve as models of excellence for other higher education institutions."
Keith Jenkins, RIT's vice president and associate provost for Diversity and Inclusion, said: "This award is a testament to faculty, staff and students that have been working for decades to move us forward in creating a more diverse and inclusive university. This year RIT proudly welcomed the most diverse class in its history and we are embracing new opportunities to expand partnerships and continue this great work." 
For more information about the HEED Award or the Diversity Champion recognition, visit the INSIGHT Into Diversity website.