RIT named a top college for Native Americans
University makes 'Winds of Change' list for sixth consecutive year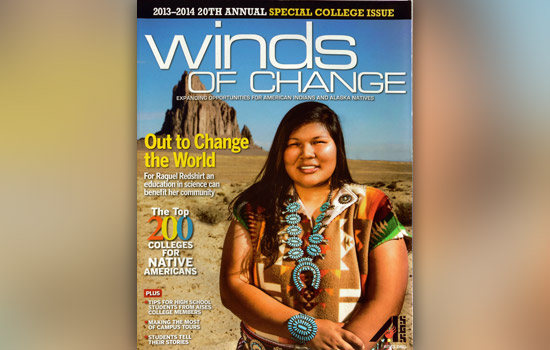 For the sixth year in a row, Rochester Institute of Technology has been named as one of the country's top educational options for Native American students. The American Indian Science and Engineering Society named RIT as one of America's "Top 200 Colleges for Native Americans." The list appears in the annual college guide of the society's Winds of Change magazine.
The university is being recognized for its academic programming and support services for Native American scholars, its cooperative relationships established with New York state tribes and leaders, and several research initiatives specific to Native American communities in the region.
"The '200 list' identifies colleges and universities where American Indian students are going to school in significant numbers and where the community, Native programs and support are strong enough that these students stay and graduate," says Jason Younker (Coquille Indian Tribe), associate professor of anthropology and director of RIT's Future Stewards Program, established in 2007 to provide academic, social, community and career services for the university's Native American and First Nations scholars. "It's wonderful that RIT is again recognized for its continuing commitment to the success of our Native American and First Nations students."
In its first year, 32 Native American students were enrolled. Today, more than 178 participate in campus-wide programs. They have an average GPA of 3.11, and more than 93 percent of those participants graduated from RIT with bachelor's or master's degrees since the program's inception. This percentage is well above the national average of 23 percent of Native American students completing college degrees, according to the U.S. Census Bureau.
RIT's Future Stewards Program was also recognized for excellence in the Commission on Independent Colleges and Universities' 2013 Handbook of Best Practices. According to Younker, the Future Stewards Program has also facilitated a strategic partnership between RIT and Native American, Alaska Native and First Nation governments and communities, known as the Native American Advisory Council that advises RIT leaders in an effort to improve the academic support and better address challenges faced by Native American students.