RIT names interim dean of GCCIS
Anne Haake will lead the college while national search for new dean is underway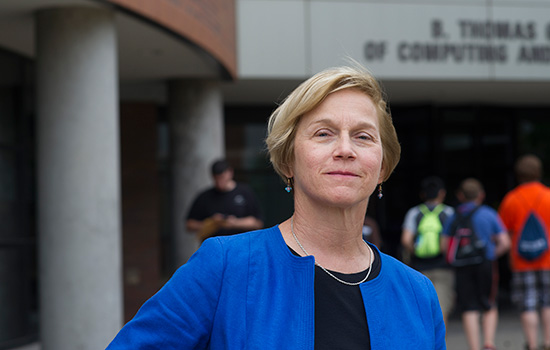 Anne R. Haake has been named interim dean of the B. Thomas Golisano College of Computing and Information Sciences at Rochester Institute of Technology.
Haake, who currently serves as professor and associate dean for Research and Scholarship in the Golisano College, will assume her new responsibilities in July.
"Anne brings to this role a keen sense for keeping the college on its substantial trajectory moving forward," said RIT Provost and Senior Vice President for Academic Affairs Jeremy Haefner. "She deeply values interdisciplinary work and will continue to be a strong advocate for collaborative education and research."
Haefner said a search committee for a permanent dean of the Golisano College will be formed before the end of the academic year and the group will work to bring a full-time dean to RIT by July 1, 2016.
Haake has had a distinguished career in academia, including 15 years at RIT. She has served in interdisciplinary curriculum development roles for several programs, including bioinformatics, medical informatics, the Ph.D. in computing and information sciences and the human-computer interaction master's program.
She has been a leader in interdisciplinary research, as principal investigator of National Science Foundation and National Institutes of Health-funded research and as a mentor for undergraduate and graduate student research. In 2012, she was named RIT's first National Science Foundation Expert in the foundation's Division of Biological Infrastructure and served as a program director for the division.
Haake also has experience as a technical adviser to industry, serving as a board member, delivering instructional workshops and making recommendations for future research and development.
"I am very excited for the opportunity to move the college ahead during this transition period," Haake said. "I look forward to continue working with the wonderful students, faculty and staff in the computing college in this new position."
Haake, a Scottsville resident, takes the helm from Andrew Sears, who steps down as dean in July to take a new position as dean of Penn State's College of Information Sciences and Technologies.
Haake received a bachelor's in biology from Colgate University and a master's and Ph.D. in developmental biology from University of South Carolina. She also completed the master's in software development and management at RIT, while on the faculty at the University of Rochester School of Medicine and Dentistry.
Topics