RIT names its 10th president
Former engineering dean at the University of Michigan chosen after national search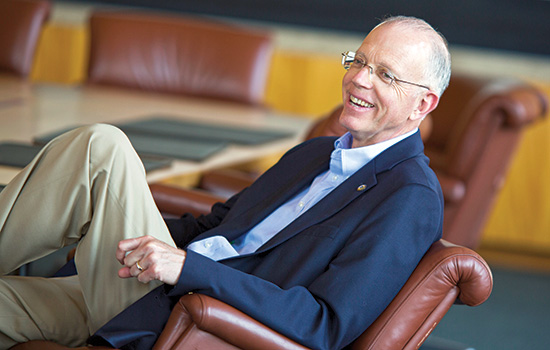 Joseph Xu
David C. Munson Jr. has been selected by the RIT Board of Trustees to be the university's next president.
Munson, vetted by a 24-member search committee from a pool of national candidates, will assume RIT's top post July 1, succeeding Bill Destler, who has been president since 2007.
"It is a great honor and privilege to become the next president of what I believe to be a gem in higher education," said Munson. "I was drawn to RIT when I observed an exciting portfolio of academic programs, research with impact to solve global problems and an ability to stay focused on the overall student experience. I was truly impressed with RIT's strengths in the arts, as well as technology, and how they are blended. I look forward to carrying on university traditions and building on the 2025 Strategic Plan, 'Greatness through Difference.' I am eager to meet members of the RIT community and work with them to reach their aspirations."
Munson was introduced to the community by Board of Trustees Chair Christine Whitman at an event today at the Gordon Field House.
"We are proud to welcome Dr. Munson and look forward to him leading the university through its next exciting chapter," Whitman said. "His extensive academic experience, respected research credentials, demonstrated leadership, engagement with students and global vision will propel RIT to new heights. We know he will build on the strong foundation established by President Destler and his predecessors who worked tirelessly to make RIT a university of distinction."
Munson, who has 38 years of experience in higher education, served as the Robert J. Vlasic Dean of Engineering at Michigan, one of the top-ranked engineering schools in the world, from 2006 to 2016.
He earned his BS degree in electrical engineering (with distinction) from the University of Delaware, and MS, MA and Ph.D. degrees in electrical engineering from Princeton University. He has had a distinguished academic career at both the University of Illinois and then the University of Michigan, and is well respected in private industry. He has served in leadership positions with the Institute of Electrical and Electronics Engineers (IEEE) and as co-founder of InstaRecon Inc., a start-up firm to commercialize fast algorithms for image formation in computer tomography.
His selection drew praise from RIT President Destler, who will retire June 30 after more than 40 years in higher education.
"On behalf of RIT and the Greater Rochester-Finger Lakes region, I welcome Dr. Munson and his wife, Nancy, to our community," said Destler. "The naming of a new president is an exciting time for RIT students, faculty and staff, as well as our alumni, family and friends around the world. Dr. Munson has an impressive record of accomplishments and brings skills, expertise and experience that will greatly benefit this university, which is already well on its way to being one of the world's great institutions of higher education."