RIT Names Recipient of Eugene Fram Chair in Applied Critical Thinking
Associate Professor Clarence Sheffield Jr. accepts three-year appointment Sept. 1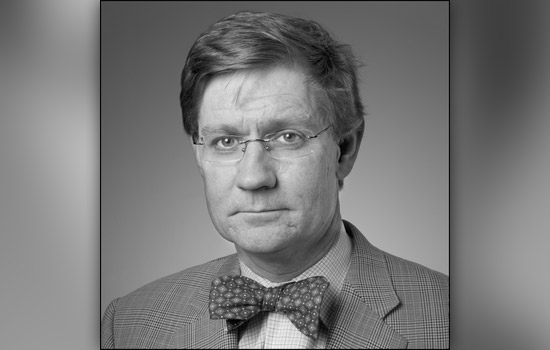 Clarence (Chip) Burton Sheffield Jr. has been named the first recipient of the Eugene Fram Chair in Applied Critical Thinking at Rochester Institute of Technology. The associate professor in RIT's College of Imaging Arts and Sciences, where he has been a faculty member since 2003, will begin his three-year appointment on Sept. 1.
"The Eugene Fram Chair in Applied Critical Thinking will provide campus-wide leadership in cross-disciplinary approaches to critical thinking with the goal of assuring that every RIT student obtains critical-thinking skills prior to graduation," says Jeremy Haefner, RIT provost and senior vice president for academic affairs.
"The chair will accomplish this goal by working with faculty across all programs to fully integrate critical-thinking skills into existing and new curricula. By advancing student programming, faculty training, research and scholarship related to critical thinking, RIT aims to create a national Center for Excellence to bring attention to this vital component of higher education."
Last November, an anonymous RIT alumnus donated $3 million to establish the Eugene Fram Chair in Applied Critical Thinking in RIT's E. Philip Saunders College of Business. Fram is a renowned retail expert and the J. Warren McClure Research Professor Emeritus of Marketing who retired from RIT in 2008 after 51 years of teaching in the Saunders College.
"The donor and I are delighted that Professor Sheffield will be the first occupant of the Eugene Fram Chair in Applied Critical Thinking," says Fram about the appointment. "That RIT has named such a strong, vibrant and experienced teacher to this far-reaching post confirms that the university is absolutely committed to ensuring that all its students graduate with the skills to think critically. Chip's appointment will powerfully launch this vital pedagogical mission."
RIT President Bill Destler believes the ability to think critically is essential, especially in a globally-minded marketplace filled with complex decisions and rapid technological changes. "Critical thinking can make all the difference in success inside and out of the classroom," he says. "We are indebted to Dr. Fram and our generous donor who recognize the vital nature of critical thinking as an important element of all academic disciplines and professional fields."
Sheffield is a distinguished scholar of modern Scandinavian art, architecture and design who holds an undergraduate degree in philosophy from the University of Utah, a master's degree in art history from the University of Colorado, Boulder, and a doctorate in art history from Bryn Mawr College.
He says it's an honor to be chosen for this unique position and looks forward to ensuring that RIT students become active, life-long critical thinkers and fully engaged global citizens. "Applied critical thinking, finding and assessing the quality of information, and discriminating its meaning and significance is paramount in today's technologically-infused society as the quantity, ease and speed of its retrieval has exponentially expanded," Sheffield explains.
"It is vital that our students develop intellectual agility as a key competency along with disciplinary rigor, and that they reflect on their core beliefs and convictions, as well as the values that they value. Critical thinking need not always be drily cerebral, in my opinion. It should allow for and, occasionally, encourage the playfully poetic."
Topics