November 7, 2019
by Ellen Rosen
RIT names six new members to its board of trustees
All are alumni; appointments announced at Nov. 7 meeting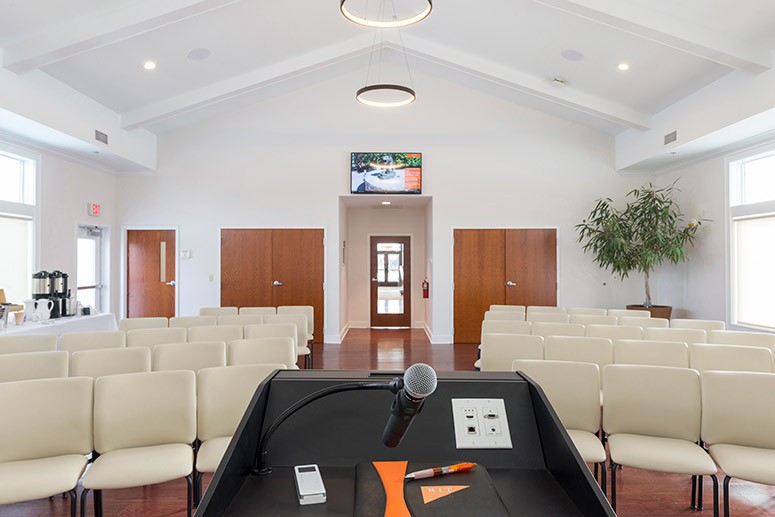 Rochester Institute of Technology appointed six new members to its board of trustees. The appointments were announced at the Nov. 7 board meeting.
Joining the RIT Board of Trustees are:
Mark G. Barberio, retired business executive turned angel investor and advisor, now principal of Markapital LLC, a consulting firm that also invests in early-stage companies and real estate rehabilitation projects. He is involved with the Buffalo Angels and the Rochester Angel Network and has invested more than $1 million of his own funds into Upstate New York startups. Barberio currently serves on a number of corporate boards, including for Gibraltar Industries, Exide Technologies and Life Storage. He earned bachelor's degree in business administration/accounting from RIT in 1985 and has served on the President's Roundtable and the Saunders College of Business' Accounting Advisory Board, as well as establishing the Barberio Family Endowed Scholarship.
Carol B. Cala, vice president of Corporate Environment, Safety and Health for Lockheed Martin Corp. Previous roles have included vice president of Quality Assurance at Hasbro Inc., and worldwide director of Health, Safety, Environment, Consumer Digital group at Eastman Kodak Co. She's the recipient of several business leadership recognitions, including a Kodak Leadership in Diversity Award. Cala holds a BS degree in chemistry and a MS degree in professional studies: environment and business management from RIT, and has completed Executive Development programs at Smith College and the Tuck School of Business at Dartmouth College.
Dale J. Davis, lead executive intellectual property counsel in GE Power's Gas Power Systems business. He joined GE Power in 1996, first serving as an international technical advisor and later becoming a lead engineer in advanced controls development. He left the company to study law at North Carolina Central University and spent two years as an intellectual property associate at a law firm in Research Triangle Park before rejoining General Electric in 2006. He held roles as a patent counsel and senior intellectual property counsel in his second stint with General Electric before assuming his current role in 2014. A 1996 mechanical engineering graduate of RIT's Kate Gleason College of Engineering, he is a current member of the President's Roundtable and the Mechanical Engineering Program Advisory Committee, and a former member of the Alumni Association Board of Directors.
Victoria D. Griffith, vice president of quality assurance and purchasing for the Farmers Restaurant Group, a Washington, D.C.-based restaurant management and concept development company whose restaurants emphasize made-from-scratch dishes created in-house each day using fresh, sustainably-grown ingredients sourced from American family farms. Prior to joining the Farmers Restaurant Group in 2016, she ran her own consulting company for more than five years. She earned a BS in food marketing and distribution from RIT's former College of Applied Science and Technology in 1993, and is a longtime member of the Alumni Association Board of Directors, where she is currently the association's vice president and president-elect. She has also served on the Department of Hospitality and Tourism Management International Advisory Board, on the Nathaniel Rochester Society Executive Committee, and as an alumni chapter volunteer and leader, and was honored with the 2009 Volunteer of the Year Award. She is also the recipient of RIT's Sarah Margaret Gillam Memorial Award (2000) and the Entrepreneurial Award (2015) from the School of International Hospitality and Service Innovation.
Eric J. Kuckhoff, retired vice president of Cargill Inc. Kuckhoff was the founder and CEO of Polystar LLC when it was acquired by Cargill Inc. Prior to launching Polystar, he held positions at Dow Chemical and American Cyanamid. He previously served on the RIT Board of Trustees (2016-2017) as president of the RIT Alumni Association, of which he remains a board member. Kuckhoff received his MS degree in chemistry from RIT in 1984. An active alumnus, he has served as a career mentor and has represented RIT at events across the country.
Dinah Gueldenpfennig Weisberg, CEO and President of REDCOM Laboratories Inc. The daughter of founders Klaus and Brigitte Gueldenpfennig, she joined REDCOM in 1986 as a summer intern, quickly moving into the development group as a software engineer in 1988, going on to hold several senior roles in the engineering department. In 2004, she was promoted to vice president of Planning and Government Program Administration. In 2012, she was named executive vice president, in January 2017, she became president and within a year, added the CEO title. She holds both an MS in software development and management and an Executive MBA from RIT.
The board now consists of 48 active trustees, including 29 alumni and 34 trustee emeriti.
Topics