RIT now considered national "Doctoral University"
Historic shift reflects university's rapid growth in Ph.D.s and research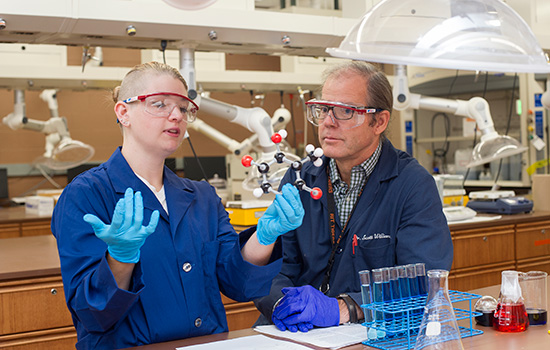 A. Sue Weisler
It's official: Rochester Institute of Technology is now considered a "doctoral university" by the leading national classification of U.S. colleges and universities.
The Carnegie Classification of Institutions of Higher Education has changed RIT from "Masters – Comprehensive" to "Doctoral University - Moderate Research Activity." This change occurs when a university graduates more than 20 Ph.D. degrees per year, a figure that RIT has exceeded in recent years. In May 2015, RIT awarded 33 doctoral degrees in seven Ph.D. programs, the most in its history.
"We have been expecting this change, and it reflects the rapid upward momentum of RIT over the last several decades," said RIT President Bill Destler. "The movement of RIT into the ranks of the nation's finest colleges and universities is a remarkable story."
The Carnegie Classification has been the leading framework for recognizing and describing institutional diversity in U.S. higher education for the past 46 years. The Carnegie Commission on Higher Education developed a classification of colleges and universities to support its program of research and policy analysis in 1970. This framework has been widely used in the study of higher education, both as a way to represent and control for institutional differences, and also in the design of research studies to ensure adequate representation of sampled institutions, students, or faculty.
RIT began its first doctoral program in 1990 in imaging science, the first in the nation. In the 2000s, RIT added six more in the areas of astrophysics, color science, computing and information sciences, engineering, microsystems engineering, and sustainability. Several interdisciplinary doctoral programs are in the planning stages.
RIT sponsored research grew by 18 percent in 2015, reaching a record $62 million in funding. RIT received 356 new awards from a variety of state, federal, corporate, and foundation sponsors. Federal funding was at an all-time high with the National Science Foundation providing $13 million and the National Institutes of Health providing $3 million.
The Carnegie Classification change also means that RIT will likely soon be ranked among the "National Universities" by U.S. News & World Report, rather than among the top "Regional Universities – North" as has been the case since the magazine began its annual rankings in 1983.
For the first time in the university's 187-year history, the word "research" was incorporated into the vision statement of RIT's 2015-2025 strategic plan "Greatness Through Difference." The vision statement reads: "RIT will be a great world university whose academic portfolio, research agenda, and educational model align with the shifting needs of a complex planet."
###
About RIT:
Rochester Institute of Technology is home to leading creators, entrepreneurs, innovators and researchers. Founded in 1829, RIT enrolls more than 18,600 students in more than 200 career-oriented and professional programs, making it among the largest private universities in the U.S.
The university is internationally recognized and ranked for academic leadership in business, computing, engineering, imaging science, liberal arts, sustainability, and fine and applied arts. RIT also offers unparalleled support services for deaf and hard-of-hearing students. The cooperative education program is one of the oldest and largest in the nation. Global partnerships include campuses in Croatia, Dubai and Kosovo.
For news, photos and videos, go to www.rit.edu/news.
Topics