RIT Observatory open house focuses on Geminids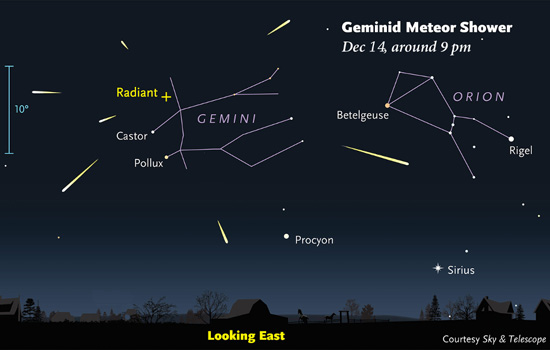 Sky and Telescope
The Rochester Institute of Technology Observatory's next open house will coincide with the Geminid meteor showers.
The observatory will be open to the public from 7 to 9 p.m. on Monday, Dec. 14, weather permitting. The observatory is located at 645 John St., near Bailey Road, in Henrietta.
"If conditions are good, visitors can expect to see 10 to 20 meteors per hour," said Michael Richmond, professor in RIT's School of Physics and Astronomy and director of the observatory. "We will also train our telescopes on the sadly neglected Uranus, one of the more obscure planets in our solar system."
Richmond encourages visitors to dress warmly for standing outside. He also recommends checking for weather-related cancelations on the RIT Observatory website at www.rit.edu/cos/observatory.
"Our telescopes can't see through thick clouds or snow," he said.