RIT to Offer Combined Bachelor's-Master's Physician Assistant Degree
Students accepted for first-year class in 2011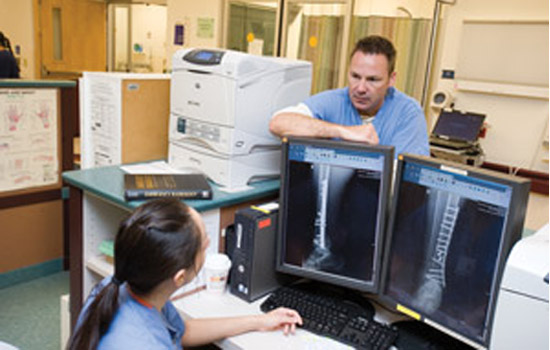 A. Sue Weisler
Rochester Institute of Technology will offer a combined B.S./M.S. degree program in physician assistant studies, beginning in 2011 with a first-year class.
Enrollment in the existing undergraduate program is expected to grow from approximately 25 students to 30 or 40, says Heidi Miller, director of the physician assistant program and interim associate head of the School of Biological and Medical Sciences at RIT. This expanded graduate program will transition the current four-year B.S. degree to a five-year B.S./M.S. degree program.
Since 1993, RIT has offered an undergraduate degree in physician assistant and has graduated 371 physician assistants from its program. A large number of graduates from the physician assistant program remain in upstate New York.
"We clearly see this as an enhancement of an already high-quality program," Miller says. "We've taken a lot of time to seek alumni input, employer input, current student and faculty input, so we can enhance what we do particularly well."
The U.S. Bureau of Labor Statistics ranks physician assistants as the seventh fastest growing occupation in the country, with expected increases reaching 39 percent through 2018. Market force trend issues also indicate that physician assistants entering the profession in the next decade will need a graduate degree, Miller says.
"Moving the PA profession to a graduate-educational realm makes good sense because it's always been a competency-based profession taught at a professional level," she says. "Having a graduate degree commensurate with that type of education and that type of rigor makes perfect sense."
The first and second year of the program constitutes the "pre-professional" phase, when students' complete their degree requirements in the College of Science and College of Liberal Arts. The "professional phase" begins in the third year. This is when students in each graduating class form a tight cohort that advances through the medical component of the program to their final year of clinical experience in the field.
RIT's new B.S./M.S. program will expand the professional phase to include additional course work in epidemiology, research methods, gross anatomy, medical genetics and evidence-based medicine.
"Evidence-based medicine will be a big part of what we do," Miller says. "It's a whole different kind of mindset about how we approach clinical problems and medical diagnoses, making sure that we can back everything effectively from the medical literature as it relates to patient care."
During their final year, graduating seniors will conduct a final research project while completing their clinical rotations. They will have the opportunity to choose from original research, community-based medical projects with physicians and health care providers, or patient educational projects.
For more information about the B.S./M.S. in physician assistant studies at RIT, contact Heidi Miller at 585-475-5945 or hbmscl@rit.edu.
##
Topics