RIT offers eclectic lineup at Fringe Festival 2016
More than 500 eclectic performances and displays planned Sept. 15-24 in Rochester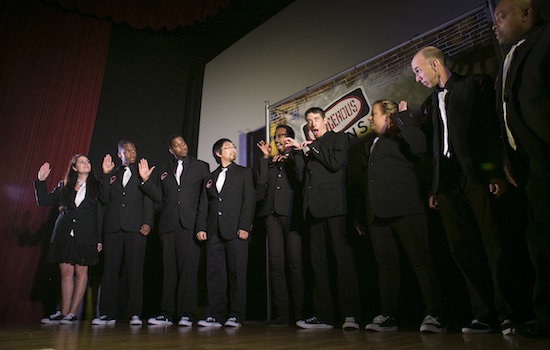 Lloyd McCullough
Rochester Institute of Technology students, faculty, staff, alumni and Osher members are part of a 10-day lineup of more than 500 eclectic performances in this year's First Niagara Rochester Fringe Festival, Sept. 15-24 in Rochester.
RIT is a "founding higher educational partner" of this major educational sponsor of the community collaborative event, now in its fifth year. The festival is a celebration of the performing and visual arts in downtown Rochester, featuring world-renowned performers as well as up-and-comers.
All RIT-related events are free and will be held at Gallery r, 100 College Ave.; The Little Theatre and The Little Café, 240 East Ave. Performances at other venues may require tickets.
RIT-related events this year include a performance by Thomas Warfield, professor at RIT's National Technical Institute for the Deaf and world-renowned dancer, singer, actor, choreographer, director, producer, educator, activist and poet, and performances by the RIT Ukulele Club, numerous student singing groups and dances from the Asian Culture Dance Crew and RIT Bhangra.
Another RIT attraction is Algorave Lite: Live Coding Algorithmic Dance Music, where musicians and coders create music by programming it in front of a live audience.
"RIT, which has a long tradition of educating students in a variety of artistic endeavors, has been a proud supporter of this festival since its debut," said RIT President Bill Destler. "This festival gives us a chance to showcase our community as well as the many talented students, faculty and staff at our university, where we focus on producing graduates who excel in STEAM education – science, technology, engineering, arts and math."
Luane Davis Haggerty, director of RIT's Dangerous Signs performance group, said it's important to be part of such a large community art event.
"One of RIT's missions is innovation," she said. "Fringe theater is innovation at its finest, so having students involved and exposed to a level of experimental and experiential theater opens new pathways for them."
Here's a sampling of other RIT festival Fringe offerings:
RIT Singers, RIT's curricular choral ensemble, perform a variety of repertoire.
Encore A Capella, Eight Beat Measure, Brick City Singers, RIT Surround Sound and Vocal Accent give performances.
RIT Ukulele Club performs both classic and contemporary songs.
SUP? Billed as an American alternative rock trio formed at RIT in 2013 by students Tom Winegar, Josh Bassig and Josh Willsey. Their music is described as a blend of modern rock, 90's alternative/punk and 70's groove.
Thomas Warfield—professor at RIT's National Technical Institute for the Deaf and world-renowned dancer, singer, actor, choreographer, director, producer, educator, activist and poet—will perform "Creating Dance/Building Relationships." His presentation/workshop involves the art of dance both live and virtual, in both demonstration and interaction, as a way of guiding us towards a deeper awareness of our own being.
RIT Players Fringe Show, a short play written and performed by RIT Players.
Dangerous Signs: An American Sign Language performance group that uses mime, dance, sign and music to illustrate community in collaboration.
RIT Improv: On the Fringe. Three teams, Work in Progress, The Improvessionals, and BrainWreck Improv will demonstrate the art of improvisation storytelling in a series of short skits.
Dances from East Asia, featuring he Asian Culture Dance Crew, founded in 2012. They concentrate on learning contemporary music from Asia, such as k-pop, j-pop and c-pop.
RIT Bhangra dance team, representing the culture of Punjab, India.
Improvisation with Sound and Image, designers and musicians improvise with visuals and sound. No two performances are the same, and audience participation is encouraged.
Al Biles and GenJam play jazz with improvising on tunes from swing to bop to Latin and pop. GenJam is computer software that evolves its musical ideas in real time.
2016 RIT Student Honors Show, students from RIT's School of Film and Animation produce more than 300 films and animations each year. Many of the works in the honors show receive festival screenings and awards.
RIT Photo House Display, an exhibit of photos from creative members of RIT's special-interest housing community.
Denton Crawford: Savage Sanctuary, an exhibition that critiques ancient and popular mythologies.
Osher Lifelong Learning Art Display, exhibit from the artists belonging to the Osher Lifelong Learning Institute.
For a complete schedule of RIT Fringe events (and notations on interpreted performances), go to www.rit.edu/fringefest or contact RIT Assistant Vice President of Special Events, Lynn Rowoth, at 585-475-7408 or lynn.rowoth@rit.edu.
Topics