RIT officials aim to increase pedestrian safety
Enforcement, signage planned for Quarter Mile and other high-traffic areas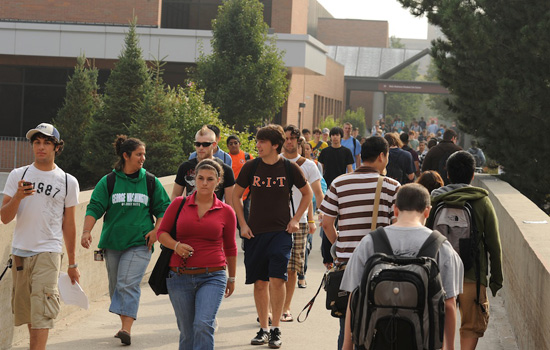 A. Sue Weisler
The arrival of spring and an increase in accidents and close calls between pedestrians and motorists has led Rochester Institute of Technology officials to launch a pedestrian safety initiative.
"There were some concerns on campus, particularly in walk-only zones," said Public Safety Director Christopher Denninger. "There have been enough close calls that it's important from a safety point to address those concerns."
Peter Ryan Jr., a Student Government senator who served as chair for the initiative, said more than 1,000 survey responses were collected on campus and a number of problem areas were identified.
"I've almost been hit a couple of times," said Ryan, a fourth-year computing security major from Orchard Park, N.Y. "But it goes both ways. Pedestrians need to be responsible as well, not looking down on their phone. When it comes down to it, we're doing what's best for the community. The policy is there to protect everyone."
The initiative, started by RIT President Bill Destler, involved all governance groups and was discussed with Public Safety and Facilities Management Services. Recommendations involve enforcement, engineering and education. Signs will be posted as a reminder that no bicycles or boards are to be used on the Quarter Mile 7 a.m. to 7 p.m. Monday through Friday. Public Safety will step up enforcement, with penalties that could include a warning, a $25 fine or referral to Student Conduct, Denninger said.
Bike racks will be moved closer to the multi-use trails on the north and south sides of campus, where biking and boarding are allowed.
Another problem seen are bicyclists speeding down hills near Sol Heumann Hall and near the Bausch & Lomb Center. There, cyclists have darted onto raised marked pedestrian walkways on Andrews Memorial Drive. There have been instances of bikes hitting cars.
Just because you are in a crosswalk doesn't mean you have the right-of-way, according to New York's Vehicle and Traffic Law. Although motorists are supposed to stop for people in crosswalks, the law also states "no pedestrian shall suddenly leave a curb or other place of safety and walk or run into the path of a vehicle which is so close that it is impractical for the driver to yield."
"It's a shared responsibility," Denninger said. "People should be aware of their surroundings."
That means motorists, bicyclists, long boarders and pedestrians should know what is in front, next to and behind them, and they should avoid texting when they are moving.
In addition, Denninger offers these safety reminders for bicyclists:
Wear a helmet, which will absorb the shock of an impact and prevent or reduce the severity of a crash.
Always ride with traffic.
Obey traffic lights and signs, and signal all turns.
Reflectors, a headlight and taillight are a must if you ride at night.
Keep to the right, but leave enough room to steer around road hazards and avoid car doors that may suddenly swing open.