RIT to partner with Vellore Institute of Technology
New joint center will be located in the capital of Andhra Pradesh, India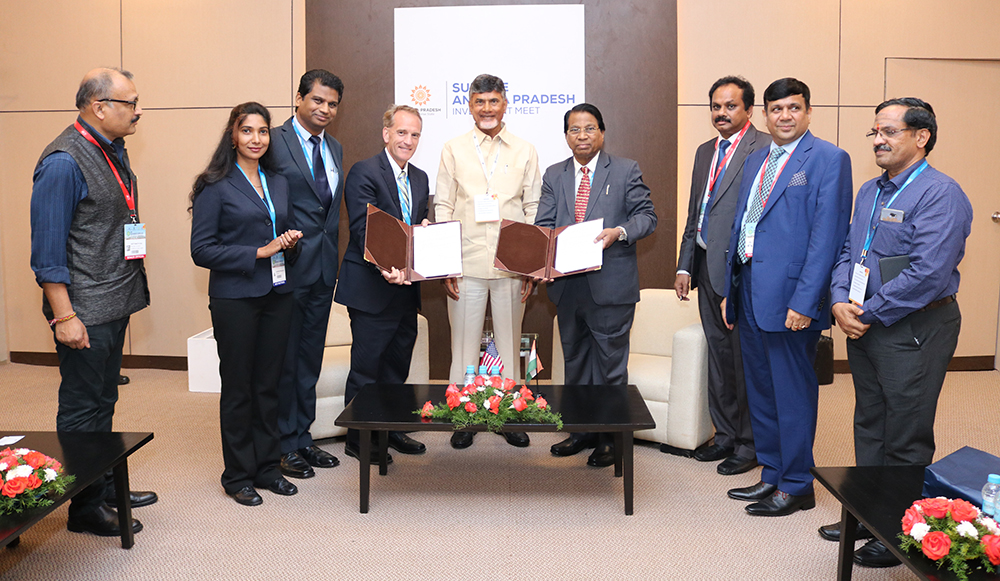 Rochester Institute of Technology has signed an agreement to establish a joint center with Vellore Institute of Technology (VIT) at its new extension campus located in Vijayawada in the capital of Andhra Pradesh, India.
The Memorandum of Understanding, in partnership with the government of Andhra Pradesh, was exchanged by RIT Associate Provost of International Education and Global Programs James Myers and VIT Chancellor Dr. G. Viswanathan. In attendance were RIT alumni VIT Vice President Sekar Viswanathan '92 (computer science) and Executive Director Sandhya Pentareddy '94 (computer science). Andhra Pradesh Chief Minister N. Chandrababu Naidu presided over the signing ceremony.
"Vellore Institute of Technology is ranked No. 1 in engineering for private universities in India," said Myers.
According to Myers, the new center will be the focal point for extensive collaboration between RIT and VIT. The center will focus on developing engineering, computer science and business curricula that would facilitate transfer for both undergraduate and graduate students from the VIT campus to RIT, lay the foundation for an RIT-VIT center of excellence in supply chain and manufacturing processes, and develop joint programs to promote collaboration of Indian industrial partners in research, education and training programs.
"The center will provide opportunities for RIT students to spend time in India conducting research, engaging with Indian companies and learning about the extraordinary culture of one of the worlds' fastest growing economies," Myers said.
Established in 1984, VIT has become one of the best-known private engineering universities in India.
Vellore Institute of Technology, formerly called Vellore Engineering College, is ranked the No. 1 Private Engineering Institution in India by the Ministry of Human Resource Development, Government of India. The university offers 27 undergraduate, 30 postgraduate, four integrated and four research programs. It has campuses in Vellore and Chennai, Tamil Nadu, India.