RIT partners with Colombian university
Academic agreement highlights student, faculty exchanges in product design and commercialization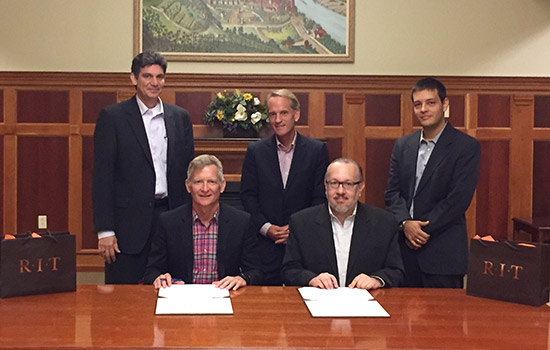 Rochester Institute of Technology and the Universidad Autónoma de Occidente recently signed a Memorandum of Understanding, an agreement between the two universities that would include student and faculty project and research exchanges focused on international product design theory and commercialization for developing economies. Both universities emphasize innovation and entrepreneurship to broaden regional economies, and having students prepared to lead global commercialization initiatives is an expected outcome of the new international collaboration.
Universidad Autónoma de Occidente (UAO) is located in Cali, Colombia, and is made up of five schools: engineering, economics and business management, communication, basic sciences and humanities. Its key research areas include economic development, environmental management and sustainability, manufacturing, organizational communication and industrial applications.
Under the new agreement, undergraduate and graduate students from each university would have the opportunity to participate in coursework at each site, particularly engineering senior design courses, collaborating with faculty and graduate students who could act as project mentors and guides, and upon return to home countries, allow them to complete designs toward product prototypes or businesses.
"We want to give both graduate and undergraduate students international experiences and the vehicle to do this is through a field experience, for example, where they could understand product development in a local context, within a model where two teams work on complementary projects – one at UAO and another at RIT," said Marcos Esterman, associate professor of industrial and systems engineering in RIT's Kate Gleason College of Engineering. He helped spearhead the connection between the two universities.
Some early project ideas that have been recommended include technical improvements to products and equipment on the power grid currently in place in Colombia and the development of a broader recycling infrastructure that could support both environmental concerns and provide new alternative material resources.
"Colombia is entering an unprecedented time of peace, and it is an opportunity for them to build up their economy. The key is mutual benefit to both parties," he said. "Learning how to execute commercialization in different types of environments beyond the U.S. is probably of value to many students."
James Myers, associate provost for international education and global programs agreed, adding that international opportunities are the key to educating global citizens. "I am very excited about this partnership development and the experiential opportunities for students."
RIT has numerous international partnerships, formal agreements and faculty/student exchanges with universities. International co-op experiences are also available to students and new arrangements for these opportunities continue to grow.
Topics