RIT Partners with Seneca Indian Nation to Preserve 'Endangered' Native Language
Grant will help develop language-translation dictionary, Web-based interface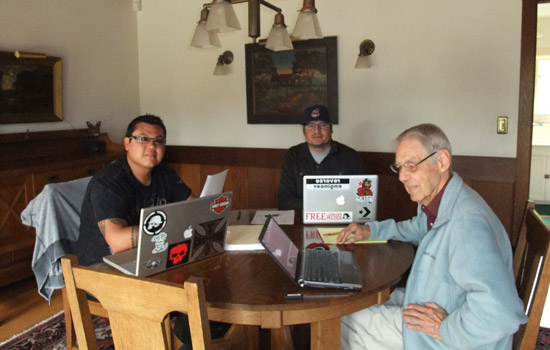 The fewer than 50 native speakers of the Seneca Nation of Indians' language would agree that it is in danger of becoming extinct. Fortunately, a $200,000 federal grant for the Seneca Language Revitalization Program has further solidified a partnership with Rochester Institute of Technology that will help develop a user-friendly computer catalogue allowing future generations to study and speak the language.
The revitalization program grant, awarded to RIT's Native American Future Stewards Program, is designed to enhance usability of the Seneca language through a series of educational programs that will build capacity among tribe members. The foundation of the program rests on the completion of a comprehensive, Web-based, interactive Seneca language dictionary and reference guide.
Robbie Jimerson, a graduate student in RIT's computer science program and resident of the Cattaraugus Indian Reservation near Buffalo, is working on the project. Enlisting the help of linguists, Jimerson is charged with the complicated task of creating logic rules—including syntax and grammar—for every word in the Seneca language and creating a Web-accessible dictionary for English to Seneca translation.
"My grandfather has always said that a joke is funnier in Seneca than it is in English," Jimerson laughs. "I've always been interested in learning about the way the words are put together and my background in computer science is the perfect fit for this complicated project that features a language that is very contextual. For example, there are 72 different ways to say one particular word and one letter or syllable can completely change the meaning."
Jason Younker, RIT associate professor of anthropology and assistant to the provost for Native American Affairs, is the main grant writer for the project and member of the Coquille Indian Tribe.
"The Seneca Nation language is a living thing and the beauty of the language is in its complexity," Younker says. "Robbie is a conduit—building the bridge connecting the native language with second-generation speakers. He's exactly the kind of student we are looking for to help with projects like this; Native American students from New York state with the expertise and a desire to give back to their Nation. It's crucial that work like this is done for our future generations."
Jimerson says the project will take years to complete. Funding for the revitalization program runs through July 2014.