RIT partnership will develop charter high school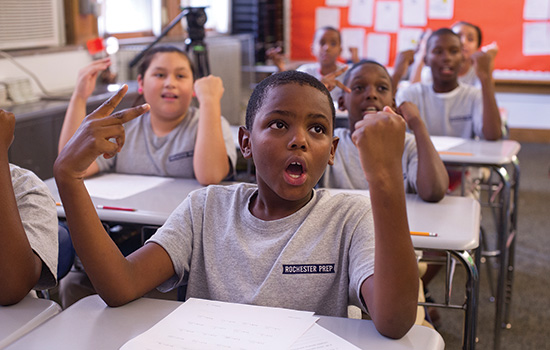 A. Sue Weisler
The days in which universities can sit 
idly by and hope that the country's urban school problems solve themselves are over, says RIT President Bill Destler. 

That's why RIT is partnering with Uncommon Schools, an award-winning charter school manager, in developing a charter high school in Rochester next year. 

"The goal of this program is not just to encourage more students to pursue a 
college-ready high school education and graduate from high school," Destler says. "Our ultimate goal is to graduate these 
kids from four-year colleges." 

The school will open next fall with a 60-student ninth grade class, growing by 2018 to about 500 students in grades 9 through 12. The location of the school has not yet been determined. Charter schools are publicly funded so students do not pay
tuition to attend, but the schools operate 
independently from local school boards.

The high school will be the fifth Rochester school operated by Uncommon Schools, which currently manages 38 schools in
 five cities. It will serve students already 
enrolled in Uncommon's four Rochester Prep schools, which have about 1,000 
students in grades kindergarten through 8. 

While the high school curriculum will 
focus on the fundamentals for college 
success, the partnership will provide 
students additional exposure to courses 
and careers in the STEM fields of science, technology, engineering and mathematics.

The students will have access to the 
university's classrooms, laboratories and 
facilities. RIT students could serve
as tutors and mentors and faculty would 
be encouraged to advise charter school staff on the latest developments in their fields. 

The partnership was made possible by 
a donation from longtime RIT Trustee Ronald Zarrella, former chairman and CEO of Bausch & Lomb, who is funding RIT's 
contributions to the partnership. 

Zarrella says he had been talking with Destler about starting a charter STEM high school with RIT for several years. After 
visiting other successful charter schools around the country, he learned the 
importance of getting involved with an 
accomplished charter school operator. 

Uncommon Schools has been recognized as one of the top charter school management organizations in the nation, recently receiving the Broad Prize for Public Charter Schools. More than 78 percent of its students are low income and 98 percent are 
African-American or Hispanic. Across Rochester Prep schools, 84 percent of 
students were eligible for free and 
reduced price lunch in 2012-2013, 
the latest figures available. 

Destler says the university will 
continue its commitment to affiliations 
already established with the Rochester City School District, including its Rochester City Scholars scholarships and Middle College readiness skills programs.

RIT is not the first university to collaborate, or found, a charter school. The Preuss School UCSD, on the University of California, San Diego campus, is a charter middle and high school for low-income, highly motivated students who strive to be the first in their families to graduate from college, says Principal Scott Barton.

The school opened in 1999 and at least 
90 percent of each graduating class has been consistently accepted to four-year colleges and universities. The class of 2013 was the first to have a 100 percent acceptance rate.

Rochester Prep parent Mia Marbury 
likes that the new high school will 
emphasize not only college readiness 
but also college completion. 

"They'll get to interact with college 
students and experience college life," 
she says. "It will give them the sense 
that they can graduate from college." 
—Includes reporting by Krista Bellardo