RIT presidential inauguration set for today
Higher education community to formally welcome RIT's 10th president, David Munson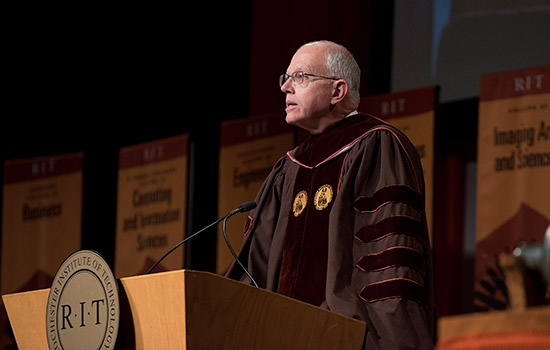 The inauguration of President David Munson as Rochester Institute of Technology's 10th president will take place Sept. 28.
What: Inauguration of David Munson as RIT's 10th president
Keynote speaker Philip Hanlon, president of Dartmouth College, will welcome Munson. A mathematician, computer scientist and educator, Hanlon came to Dartmouth from the University of Michigan, where he served as provost and executive vice president for academic affairs. At the inauguration, Hanlon will be joined by dozens of college and university presidents from across the country.
A video on Munson's successes in higher education will also be a highlight of the ceremony.
Munson's address will look toward the future of RIT and the role that higher education can play in solving complex issues around the world.
When: 3 to 4:30 p.m., with a reception to follow, Sept. 28
Where: Gordon Field House and Activities Center on the RIT campus
Who: Open to the entire RIT community
Munson facts:
Munson became RIT's 10th president on July 1
Munson took the helm from retiring president Bill Destler, who served RIT for 10 years.
Munson was previously dean of the University of Michigan College of Engineering.
For a full biography of Munson, go to the RIT President Biography webpage.
RIT Quote: "With his terrific leadership experience at the University of Michigan and his success as a faculty member and as an entrepreneur, Dr. Munson is a perfect fit for RIT," said Jeremy Haefner, RIT provost and senior vice president for academic affairs. "I look forward to working with him as we enter an exciting new era for the university."