RIT provost stepping down for a new opportunity
Jeremy Haefner leaving the university for a post at University of Denver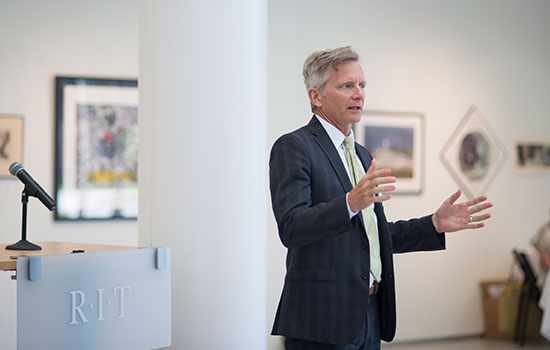 Danielle Del Plato
Jeremy Haefner is stepping down as provost and senior vice president for academic affairs at Rochester Institute of Technology.
Haefner, RIT's provost since July 2008, will become the provost and executive vice chancellor at University of Denver, effective July 15. He will remain at RIT through this academic year.
"As I look back on my near-decade at RIT, I'm so proud of what we've accomplished, moving this university into the upper echelons of higher education through transformational leadership, innovative research, academic excellence, student success and a culture of inclusion," said Haefner. "I'm very much looking forward to this new opportunity, especially knowing that I'm leaving RIT in the good hands of President Munson and the many wonderful colleagues I've had the pleasure of working with all these years."
As RIT provost, Haefner oversees nine colleges, two institutes, one school and three global campuses, supporting more than 1,500 faculty and serving 19,000 students worldwide. During his tenure, RIT achieved several milestones, including:
Reclassification as a Doctoral Research University by the Carnegie organization;
Earning a top-100 ranking among national universities from U.S. News & World Report;
Creation of both the Institute and the College of Health Sciences and Technology, as well as the School of Individualized Study, the University Exploration program, the office of Global Programs and International Education, and the office of Faculty Affairs;
International expansion and growth, including campuses in Dubai and Croatia and launch of undergraduate and graduate business programs in China;
Creation of the Innovative Learning Institute and establishment of RIT as a provider of online education on the edX platform;
The conversion of the academic calendar from quarters to semesters;
The growth of research, scholarship, innovation and creative works of the faculty;
Establishment of new academic programs, including two Ph.D. programs;
Increases in RIT's first-year retention and graduation rates.
"Jeremy has been an outstanding provost at RIT, prompting many of the changes we have seen on campus over the past decade," said RIT President David Munson. "He is admired and respected across the campus and has been a true pleasure to work with in my first year at RIT. Nancy and I will be ever grateful for the role both Jeremy and his wife, Maurin, played in acclimating us to RIT campus and the Rochester community. We wish them the very best at the University of Denver."
Munson said RIT will immediately launch a national search for a new provost.
"Jeremy was a valuable partner to me in helping move RIT down the road to national preeminence," said President Emeritus Bill Destler, who appointed Haefner as RIT provost. "He is an experienced educator, administrator and researcher, and the University of Denver will be lucky to have him."
Prior to joining RIT, Haefner, who holds advanced degrees from the University of Wisconsin in mathematics, spent 18 years in a variety of positions at the University of Colorado at Colorado Springs, including mathematics department chair, dean of Engineering and Applied Science, associate vice chancellor for research and dean of the graduate school. He has held fellowships with the American Council on Education, the National Learning Infrastructure Institute and the University of Murcia in Spain.
University of Denver is the oldest private university in the Rocky Mountain region. It has about 12,000 graduate and undergraduate students enrolled in more than 300 academic programs.
As provost and executive vice chancellor at University of Denver, Haefner will be responsible for implementing the DU IMPACT 2025 strategic plan, guiding the development of new programs, enhancing academic quality and scholarly activity, as well as developing the university's annual budget.