June 10, 2015
by Marcia Morphy
RIT receives United Way President's Award
University exceeds fundraising goal of $405,000 to help those in need in our local community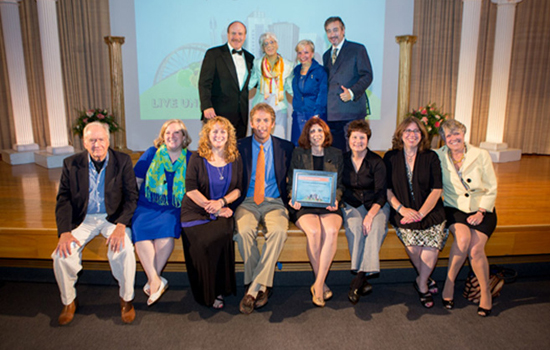 Rochester Institute of Technology continues to "Live United"—and was honored with the President's Award for its extraordinary contribution and dedication to the success of the 2015 United Way Campaign in the Greater Rochester community.
The university received the award for surpassing its goal of $405,000—raising a total of $431,705 to help the community-wide effort exceed its goal of $24.3 million.
RIT United Way Steering Committee members were on hand at The Strong National Museum of Play last Thursday to celebrate the generous donations from the campus community. Deborah Stendardi, vice president of Government and Community Relations, and Lynn Rowoth, senior director of Special Events and Conferences and campaign coordinator, were joined by Jack Callaghan, Char Ipac, Rick Lagiewski (vice chair), Carol Reed (chair), Sheila Ryan and Wendy Stapf.
"Each year the Steering Committee generates new ideas to engage the campus community, and this year 'Be a Hero, Make a Difference' was our tagline, as heroes don't always wear capes," said Rowoth. "We initiated our first CHAIRity Auction, which was a huge success, and topping it off was our student involvement with 10 events that raised more than $41,000, which was 75 percent of all special event funds. We would not have exceeded the institute's goal without the involvement of the students, who are the future of philanthropy."
The award was presented by Fran Weisberg, president and CEO of United Way of Greater Rochester. The tribute honors an organization that demonstrates outstanding senior leadership endorsement and building an effective campaign plan that includes a comprehensive communications campaign, engaging all affinity groups and creating fun and excitement throughout the entire campaign.
RIT previously earned the President's Award in 2008, and last year received the Chairman's Award for outstanding campaign performance.