RIT recognized as best online college in NYS
OnlineColleges website rankings commend RIT Online for affordability and quality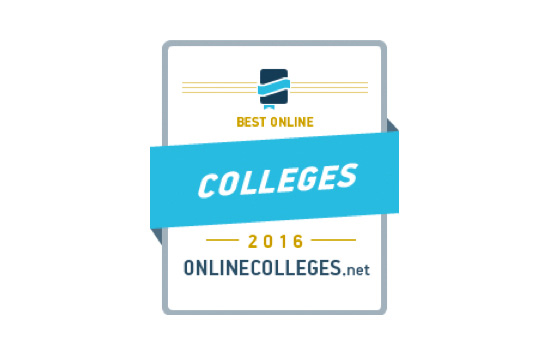 OnlineColleges.net
Rochester Institute of Technology is the best choice for students working on an online degree in 2016, according to new rankings from OnlineColleges.net.
The college research website ranked RIT first among the top 25 public and private schools offering undergraduate or graduate programs fully online throughout New York State. Out of 186 accredited online colleges in the state, RIT ranked 23rd for affordability.
"This is a wonderful acknowledgment of the innovative and dynamic learning environment that our extraordinary faculty, instructional designers and support staff have created for the online students of RIT," said Thérèse Hannigan, director of RIT Online.
OnlineColleges created the rankings as an online education resource for experienced online learners, current students and those considering attending college online. According to OnlineColleges, students can now earn a fully online degree in nearly every field of study.
OnlineColleges notes that RIT "takes digital course delivery seriously, guiding new students with a wealth of student services, such as class enrollment assistance, tutoring, a writing lab and career advising. RIT uses the myCourses system to give students access to discussion boards, reading materials and multimedia."
To find the top schools, OnlineColleges used data from the National Center for Education Statistics, school websites and the Integrated Postsecondary Education Data System. Every ranked school offers a range of programs that can be completed fully online.
The rankings also said, "RIT is no stranger to distance education—they have been offering remote learning options for over 30 years."
"At RIT, we pride ourselves on developing and delivering an exceptional online learning experience that infuses state of the art educational technology with leading academic instructors," said Neil Hair, executive director of the Innovative Learning Institute, which coordinates RIT Online and Teaching and Learning Services.
RIT currently offers more than 30 fully online programs, including an online undergraduate degree in applied arts and science and online graduate degrees in health systems administration, executive MBA and manufacturing leadership. Students who are not seeking a degree can enroll in many RIT certificate programs or individual courses provided entirely online.
To see the full list of "Best Online Colleges in New York," go to onlinecolleges.net/new-york. To learn more about RIT Online, go to rit.edu/ritonline.