RIT recognized for diversity efforts
'INSIGHT into Diversity' magazine and Minority Access, Incorporated present RIT with awards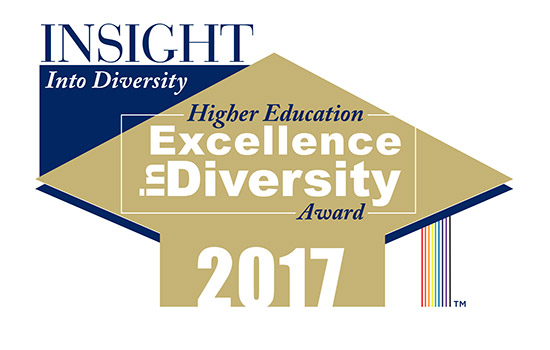 Two organizations recently presented Rochester Institute of Technology with awards recognizing the university's efforts in creating a diverse and inclusive environment.
For the fourth year in a row, RIT received a Higher Education Excellence in Diversity (HEED) Award from INSIGHT into Diversity magazine. The award honors colleges and universities that show an outstanding commitment to diversity and inclusion across their campuses. RIT will be featured, along with 79 other recipients, in the November 2017 issue of INSIGHT Into Diversity magazine. Universities are measured based on the level of achievement and intensity of commitment in regard to broadening diversity and inclusion on campus through initiatives, programs, and outreach; student recruitment, retention, and completion; and hiring practices for faculty and staff. RIT is the only university in Rochester to make the list.
RIT is also being honored as an institution committed to diversity for 2017 by Minority Access, Incorporated. The formal presentation in recognition of the university's commitment will be made during the Eighteenth National Role Models Conference, Sept. 29–Oct. 1 in Washington. RIT won the award for the first time this year.
"It takes a village to create a culture of diversity and inclusion," said Keith Jenkins, interim vice president and associate provost for diversity and inclusion. "I applaud the great work of the many RIT departments, colleges, divisions and individuals who help our students achieve greatness through difference. I believe that it is through faculty and staff hires; through tenure and promotion of women, historically underrepresented men and deaf and hard-of-hearing faculty; through the closing of graduation gaps between AALANA and non-AALANA, that we can begin to imagine the many faces of success that can exist as a result of our mentoring, sponsoring and supporting each and every person who becomes a part of this RIT family."
This year RIT welcomed its most diverse freshman class ever. While enrollment figures will not be confirmed for several more days, early counts indicate that 17.5 percent of the first-year class self-identified as people of color from traditionally underrepresented minority populations—African American, Latino American and Native American— up from 15 percent a year ago.
In addition to winning these awards, earlier this year RIT was named a Diversity Champion by INSIGHT Into Diversity for the third consecutive year. The magazine named RIT a Diversity Champion for its cumulative efforts in the area of diversity and inclusion throughout its campus communities, across academic programs and at the highest administrative levels. RIT was one of the first colleges and universities in the nation to receive this designation given by INSIGHT into Diversity.