RIT recognized for public relations work
University News, Production Services, Diversity Office combine for seven wins at annual event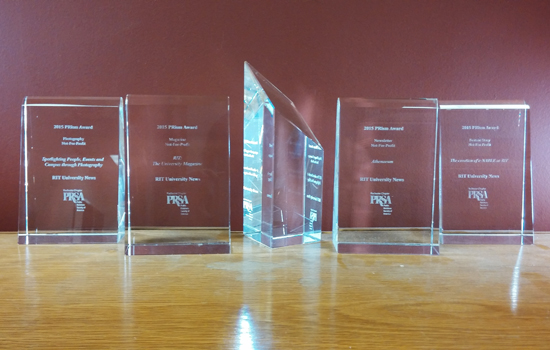 Rochester Institute of Technology won seven awards at the 2015 PRism Awards ceremony, including top awards in five categories.
University News Services collected five PRism statuettes. RIT's Production Services group received an Award of Excellence in the website category for its RIT University Arenas Website, and RIT's Office of Diversity and Inclusion shared an Award of Excellence with University News for a collaboration on multicultural public relations.
The awards, hosted by the Rochester chapter of the Public Relations Society of America, honor outstanding work in the field of public relations, among both corporate and not-for-profit sectors.
"The RIT University News team are talented and creative storytellers who advance the university's vision and mission with strategic communication," said Bob Finnerty, RIT chief communications officer. "The awards are a strong validation of our body of work. We are honored to be recognized by PRSA with all the other winners in a strong field of public relations professionals."
At the awards ceremony, held June 18 at the Rochester Museum and Science Center, University News Services took top honors in these categories:
Feature story: "The creation of e-NABLE at RIT," a package written by University News Services Communications Specialist Scott Bureau.
Magazine: The University Magazine, a 110,000-circulation publication aimed at RIT alumni. The magazine is published three times a year, under the direction of Associate Director Mindy Mozer.
Newsletter: Athenaeum, a campus-wide publication produced by the UNS staff six times a year, under the direction of Associate Director and Managing Editor Vienna McGrain. The Athenaeum has been honored in this category every year since it was first published.
Multicultural Public Relations: For "RIT's University News Team Highlights Rochester City Scholars Program First Graduates" by Senior Communications Specialist Michelle Cometa.
Photography: For a selection by A. Sue Weisler, UNS manager of photography, entitled "Spotlighting People, Events and Campus through Photography."
RIT was among six organizations recognized by PRSA for garnering the most first-place awards.
The winners were chosen from among nearly 200 corporate and not-for-profit entries. Judging this competition were members of the Kansas City chapter of the Public Relations Society of America. More about the 2015 PRism Awards event winners and the local PRSA chapter can be found at the PRSA Rochester organization's website.
Topics