RIT recognized for supporting employee wellness
Participation in wellness programs up 6 percent on campus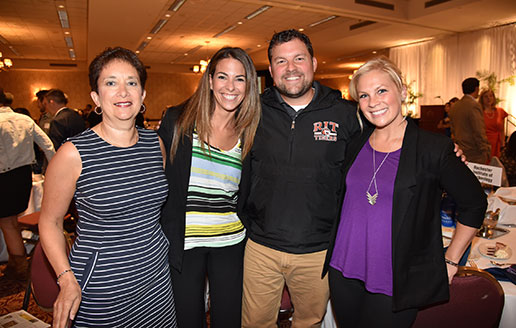 Excellus BlueCross BlueShield
For the second straight year, Rochester Institute of Technology was named a recipient of this year's Wealth of Health awards for having a wellness program to help employees stay healthy, lose weight, quit smoking and reduce stress.
The award, sponsored by Excellus BlueCross BlueShield and the Rochester Business Journal, was given at a luncheon attended by more than 300 people Wednesday at the Joseph A. Floreano Rochester Riverside Convention Center. More than 20 companies and organizations were recognized, with winners in five categories based on size.
RIT's nomination focused on the Better Me program, which began in 2007 with efforts under the leadership of James Watters, RIT's senior vice president for finance and administration. Watters was a finalist for Wellness Champion of the Year Award.
"The award is a testament to RIT's commitment to the health and well-being of the faculty and staff on campus," said Michael Stojkovic, RIT's director of wellness. "We're proud of the Better Me efforts, but it's a real tribute of the people and resources allocated to wellness on campus from the administration."
RIT's Better Me programs include flu clinics (nearly 1,300 people received a flu shot in a three-week period), a new online mobile wellness platform, weight management programs, free fitness sessions and meetings with registered dieticians. Last year, 1,417 people participated in an annual biometric screening, a cornerstone of the program.
More than 1,000 employees regularly exercise on campus each month, and some events offer prize giveaways and cash incentives to enhance participation, which increased 6 percent in the past year.
Judges selected companies based on criteria such as participation levels, program creativity, sustainability and senior management support.
Topics