RIT recognizes dedicated volunteers
Ceremony May 11 will honor dedicated volunteers at RIT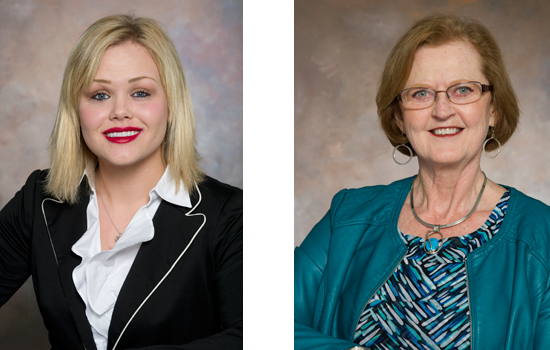 A devoted volunteer to numerous community agencies including the United Way, and a graduating student whose passion is helping refugees in Rochester have been named winners of this year's Alfred L. Davis Distinguished Public Service Awards.
The awards will be given at a public ceremony at 4 p.m. May 11 in Ingle Auditorium.
Cindee Gray '07 (EMBA), assistant vice president of Rochester Institute of Technology and Rochester Regional Health Alliance, will receive the 2016 Four Presidents Distinguished Public Service Award.
An RIT employee for almost 30 years, Gray has volunteered for the United Way of Greater Rochester for nearly 25 years, as well as Special Olympics, Leadership Rochester, Bivona Child Advocacy Center, FIRST Robotics, Rochester Business Alliance's Women's Council, Henrietta Chamber of Commerce, and more.
"I was brought up to believe that you should be involved and contribute to whatever community you are a part of, " Gray said. "When our kids were growing up, I taught religion, volunteered at school and volunteered with their sports and music boosters…"
When she came to RIT, Gray started working on the United Way campaign as part of her job. "It lit a spark in me," she said. "What a great idea to help so many people with one gift."
Gray takes satisfaction that her volunteer work helps people. "I see how hard people in these agencies work. It's hard not to help once you know what the needs are," she said. "When I started volunteering for Special Olympics, just one hug from one of the kids and it's all over. You're committed when you see the difference it makes in their lives."
Gray will receive $2,500 as part of the award to give to charities of her choice. It will be split among five of her favorites, she said.
This award is even more meaningful to Gray because she knew Alfred Davis well.
"We became very good friends over the years working on projects together," Gray said. "Working with Al on Margaret's House opening and his 90th birthday celebration are both special memories for me."
When not busy volunteering, Gray enjoys running, golf, music—she even manages to volunteer with the Rochester Music Hall of Fame—and spending time with her family: husband Mike, children Erin and Kevin and granddaughter Evelyn. Another grandchild is expected in June.
Amanda Schartau of Chili, N.Y., a fourth-year international and global studies major, will receive the 2016 Bruce R. James Award.
Her public service includes serving as Alpha Phi Omega's vice president of service, working with refugees in Rochester through St. Mary's Place Refugee Outreach and Catholic Family Center, and through RIT as a peer mentor for international students and as a tutor at the English Language Center.
"Refugees are humans with remarkable perseverance and untold stories to most of the world," she said. "We are currently faced with the greatest flow of refugees in recorded history. The reality is that one in 122 humans exist under the status of a refugee. The need for help is greater than ever."
Schartau began helping refugees as a junior in high school. Her passion to help has gotten even stronger at RIT.
"I learned about international conflict in high school and wanted to become more involved in that," she said. "And it was amazing to me that refugees were in downtown Rochester. You think it's just a big international problem, but you can help right at home."
She recalls her first meeting with a family who settled in Rochester from the Democratic Republic of Congo.
"I was a little nervous at first, the family didn't speak any English and the children were looking at me through cracks in the door," she said. "But once we had a translator, they learned very quickly."
The bond with the family's mother and five children has gotten stronger over the past five years, and Schartau considers them a part of her extended family. "The mother is working at a stable job and calls me her daughter, and I make sure the kids are doing well in school and have support. The big goal is to make sure they feel safe and self-sufficient."
She plans to donate her award to St. Mary's Place and to the area Big Brothers and Big Sisters program, where she spent time mentoring a young girl.
"RIT is a community that thrives on service and of serving something greater than our studies," she said. "It is every day that I am using the skills from my international and global studies academia and making profound differences in the community. And as I help them, they help each other—and it creates a movement for a brighter future for our city and for our world."
Joshua Schussler of Las Vegas, Nev., a fellow fraternity member and a graduate student studying management, said Schartau "does an absurd amount of public service. She's just a really good person."
As Alpha Phi Omega's vice president of service, Schartau helped find more volunteer opportunities than ever. "Many of us have double what's required," Schussler said. "She just does everything. She takes on far more responsibilities than you would think one person could handle. It gets really stressful for her, but she still does it always because she can't imagine not."
About the awards:
The Four Presidents Distinguished Public Service Award Fund was created by Alfred L. Davis on the occasion of the 65th year of his association with RIT, to commemorate the dedication of the four RIT presidents with whom he worked, in their service to the Rochester community. The purpose of this award is to honor the four presidents, Mark Ellingson, Paul Miller, M. Richard Rose, and Albert Simone, with whom Mr. Davis served at RIT, and to recognize a current member of the faculty or staff who, through his/her public service, mirrors the lives of the four presidents, who have been not only outstanding professionals but also caring members of the community. He died in 2008.
The Bruce R. James '64 Award was named after James, chair emeritus of the RIT Board of Trustees. The award recognizes a student for exemplary public service within RIT and/or the wider Rochester community. Its purpose is to highlight one of RIT's own hidden heroes while also encouraging other students to engage in public service.