RIT remembers President Emeritus Paul Miller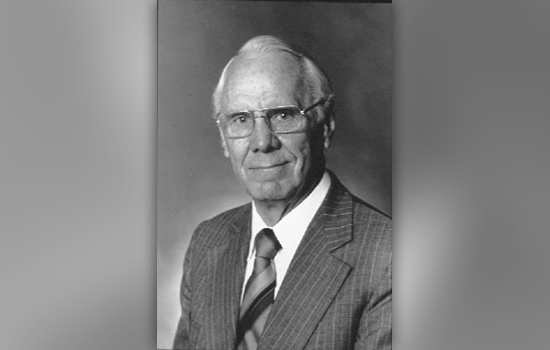 Paul Miller, president of RIT from 1969 to 1979, died June 5. He was 98 years old.

Miller, RIT's sixth president, is credited with managing the relocation of the campus from downtown Rochester to suburban Henrietta, as well as adding several new academic programs to the curriculum. The campus moved in 1968, but the transition continued over several years. He also introduced a new balanced budgeting procedure, a method for forecasting student enrollment, and implemented co-ed residence halls.
"The transition was a monumental undertaking, but the robust success of RIT today is without a doubt due to the steadfast leadership and tenacity of President Miller," said RIT President Bill Destler. The RIT community shall forever be indebted to him for imagining all that was possible for our students, faculty and staff, and having the courage to be confident and adventurous in his decision making."
The RIT flag will be flown at half staff this week in memory of Miller. He will also be remembered at the 17th Annual RIT Retirees Dinner and Award Ceremony being held from 4 to 7 p.m. Wednesday in the Gordon Field House.

Miller, born in East Liverpool, Ohio, attended West Virginia University after graduating high school, where he earned his bachelor's degree in agriculture in 1939. He accepted a position as a county agricultural agent with the WVU Agricultural Extension Service. He also served as a first lieutenant in the U.S. Army Air Corps during World War II and served in South America, Africa and India in the Air Transport Command. He married Catherine Spiker, with whom he had two children.

After the war, he attended Michigan State University where he earned his master's degree and Ph.D. in sociology. He taught at MSU from 1947 to 1962, became director of the university cooperative extension service and served as provost from 1959 to 1962. In 1962, he left MSU to accept an appointment as president of West Virginia University.

After serving as WVU president, he was selected by President Lyndon B. Johnson to be assistant secretary of education for the U.S. Department of Health, Education and Welfare. It was during this position that Miller first became acquainted with RIT. He was asked to oversee the development of the National Technical Institute for the Deaf at RIT and assume the role of official liaison between the university and the federal government.

In 1968, he began working as a distinguished professor of education at the University of North Carolina at Charlotte, while simultaneously teaching at the North Carolina State University at Raleigh as a professor of adult education. He left in 1969 when he was selected as president of RIT.

According to Dane Gordon, RIT professor emeritus and author of Rochester Institute of Technology: Industrial Development and Educational Innovation in an American City 1829–2006, "Paul Miller believed that the most useful task of the administrator is not as high-powered executive manager, but as a mediator and conciliator, helping the different parts of a university in their different worlds become 'glued' by getting people together to talk."

During Miller's tenure at RIT, new degrees were added in external technology, bio-communications and glassblowing.

Miller left the presidency in 1979, but continued to serve at RIT as a professor emeritus. Following his retirement from RIT, he served as an adjunct professor at the University of Missouri-Columbia prior to moving to Montrose, Colo., in 2011.

He received several honors throughout his lifetime. In 1996, he was inducted into the International Adult and Continuing Education Hall of Fame. He also received the Award of Distinguished Rural Sociologist of the Rural Sociological Society of America, along with his second wife, Francena. He was named a fellow of the American Sociological Association. Upon his retirement from RIT, the Paul A. Miller Professorship in Adult and Continuing Adult Education at RIT was established. In 2013, it was renamed the Paul and Francena Miller Chair marked by an emphasis on international education.

"Paul was a terrific mentor to me throughout my career, and the proudest moment of my career was standing on stage with him at an RIT community assembly two days after the shootings at Kent State University," said Stan McKenzie, former RIT provost. "I had been elected chair of the Faculty Senate earlier that same day, and with our hands clasped and arms raised in the air, Paul announced that higher education had survived a thousand years of political uprising and that RIT would not close, but rather continue its educational mission during those days of turmoil."

Added Barry Culhane, executive assistant to RIT President Destler, "I am so appreciative that such a great man was someone that I felt was a good friend. It was an honor to know one of the greatest educators of our times—one of the kindest, most inspiring men I've ever known."

Miller is predeceased by his first wife, Catherine Spiker Miller; his second wife, Francena Lounsbery Miller; and his son Thomas A. Miller. He is survived by his daughter Paula Miller Nolan; son-in-law Michael F. Nolan; faithful canine companion Ben; several grandchildren and great-grandchildren.

Miller's life is chronicled in his professional memoir Bridging Campus and Community. Contributions in his memory can be made to HopeWest in Montrose, Colo. A private memorial service will be held at a later date.