RIT remembers Provost Emeritus Stanley McKenzie
Longtime member of the RIT community died Nov. 8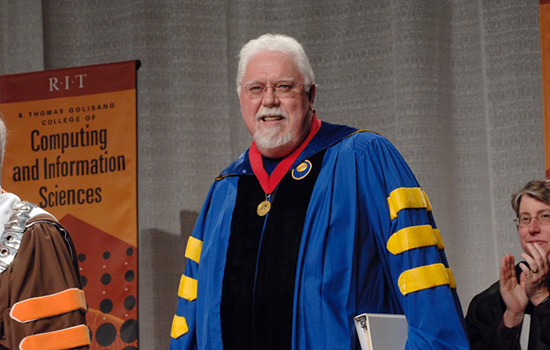 Stanley McKenzie, RIT provost emeritus and former vice president for Academic Affairs, died Nov. 8 in Tucson, Ariz. McKenzie served for 41 years in several roles at RIT until his retirement in 2011.
McKenzie joined the RIT English department in 1967 and taught for 34 years before assuming his role in the RIT administration in 1994. His other roles included director of judicial affairs, assistant to the provost and acting dean of the College of Liberal Arts. He also presented the keynote addresses at RIT's Academic Convocation and Commencement ceremonies in 2008.
Other milestone contributions include serving as co-vice-chair of the RIT Strategic Planning Committee, co-chair of the RIT Priorities and Objectives Committee, chair of Academic Senate, President's Search Committee member, Reporter magazine advisory board member, Residence Life Advisory Board member, and faculty adviser of Phi Kappa Tau fraternity. He earned NTID's National Advisory Group Outstanding Service Award and the Division of Student Affairs' A+ Participation/Leadership Award, among other honors. He also presented and edited numerous papers and was published often in academic journals. He earned a bachelor's degree in science and humanities from MIT, and he holds a master's degree and a doctoral degree in English literature from the University of Rochester.
As a child, McKenzie dreamed of being an astronaut but turned his career focus to teaching language and literature when he realized his six-foot-four-inch frame wasn't meant for space. His life's mission remained to maintain a sense of humor. A Washington state native, he enjoyed camping and hiking in the Northwest, especially Alaska and the Cascade Mountains. In 1963, he won the NCAA Northeast regional table tennis championship. Other pastimes included watching action movies, reading suspense novels by Tom Clancy and John Grisham, and reading Shakespeare and 16th-century novels.
In 2013, he pledged $300,000 to the College of Liberal Arts to create the Stan McKenzie Salon Endowed Fund that allows faculty, staff and students to gather to discuss research and current events, provides an honorarium to featured speakers, helps with event marketing and provides released time for up to one course for a faculty coordinator each academic year. In addition, extensive renovations created The Stan McKenzie Commons in Liberal Arts Hall.
"Stan McKenzie is an RIT icon," said RIT President Bill Destler. "As an administrator, he played a major role in the advancement of the university into the ranks of the nation's largest and finest private universities. As an educator, he had the innate ability to impart his zest for learning to his students. He was a beloved member of the RIT family and will truly be missed."
RIT President Emeritus Albert Simone remembers McKenzie fondly. "He was a valued friend and colleague, a confidant who had my complete trust, and a non-stop and creative university partner," said Simone. "He loved RIT; it was his life. And RIT loved and trusted him in return. He was a 'healer' for the faculty, when that might be required; he knew how to have fun; and his informal late Friday afternoon get-togethers for faculty and students at his home over the years are legendary. I am pleased that he enjoyed his retirement years, as different and as stress-free as they might be, almost as much as his challenging and institution-building years while a member of the RIT faculty and administration."
"Stan's most endearing, enduring and enviable personal quality was authenticity. He was genuine to the bone," said Bruce Austin, director of RIT Press and longtime friend and colleague of McKenzie.
Shortly before retiring, McKenzie returned to his roots: teaching literature, primarily Shakespeare, to undergraduates.
"One day that senior year in a literature course reading John Donne's 'Meditation XVII,' it hit me like a thunderbolt that I primarily wanted to influence developing young minds and, since money was no object (hey, it was the '60s), I should become an English professor," wrote McKenzie, in 1998. "Thirty-five years later, I've never regretted that decision. The single greatest reward for teachers, of course, is the graduation of our students, especially those whose lives we have personally touched. I will try to share with them feelings of the faculty: that student success is the ultimate measure of our accomplishments; that our own professional reputations are embedded in their careers; that our success will be reflected by their successes in living lives characterized by dignity, respect and purpose as thoughtful citizens of a diverse world."
An on-campus memorial for McKenzie is being planned for a later date, and the RIT flag will be lowered to half-staff in his memory.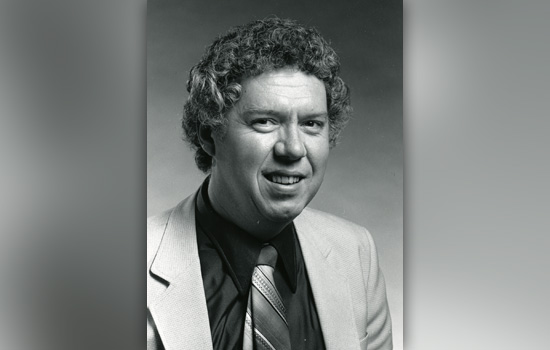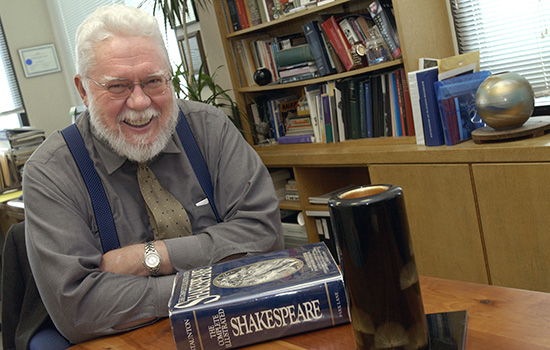 A. Sue Weisler