RIT researchers redefine clinical hypnosis
Award-winning paper redefines hypnosis, seeks validation and integration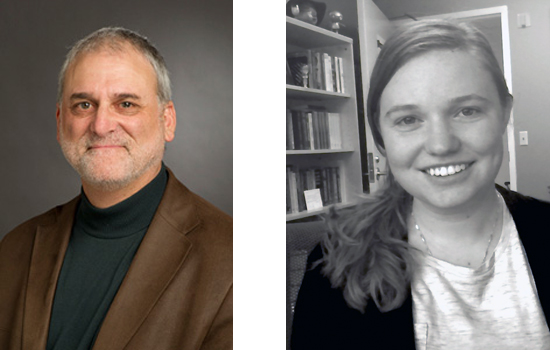 A bid to clarify the understanding of hypnosis as an effective therapeutic treatment in health care has won national recognition from the American Journal of Clinical Hypnosis, the peer-reviewed publication of the American Society of Clinical Hypnosis.
The paper "Orienting Hypnosis," published in the journal's January issue, calls for a comprehensive understanding of hypnosis using biological terms and evidence-based research. It won the Milton H. Erickson Award for "scientific excellence in writing on clinical hypnosis" at the annual meeting of the American Society of Clinical Hypnosis in Jacksonville, Fla., in March. The award, named for the society's founder and first journal editor, is one of the organization's most prestigious honors.
The January special issue of the journal explored the essence of hypnosis and was guest-edited by Dr. Laurence Sugarman, a research professor and the director of the Center for Applied Psychophysiology and Self-Regulation at Rochester Institute of Technology's Institute for Health Sciences and Technology, and general and a behavioral pediatrician at Easter Seals Diagnostic and Treatment Center.
Sugarman and co-author Anna Hope, a mental-health clinician at the RIT center, define hypnosis within a comprehensive and unified framework of biology and psychology. This grounds hypnosis in science and promotes clinical applications, the authors said.
Hindered by semantics and popular misconceptions, hypnosis "tends to be disregarded by the mainstream of healthcare research and practice," Sugarman said.
Sugarman and Hope strive to change how therapeutic hypnosis is defined and perceived. Delineating clinical hypnosis through scientific terminology and measurable results in medical and psychological contexts will elevate the practice and correct misrepresentations, they said. A clear framework will promote clinical application, professional education and research.
"It is well established that in healthcare encounters, language, relationships and attitudes have significant and powerful effects on outcomes, both psychologically and physiologically," Sugarman said. "Clinical hypnosis harnesses those forces for the benefit of patients—helping them help themselves, while increasing the efficiency and effectiveness of health interventions."
Hypnosis is a skill set, the authors maintain, that helps others to change their thinking and reframe concepts, experiences and beliefs in constructive, healthy ways. Like hypnosis, "trance" is another word they seek to clarify in term of "mind plasticity" and adaptability.
"This approach is about helping people use their own inner resources," Hope said. "The definitions of trance and hypnosis we put forth in this paper imply that we are already using them in our daily lives, although often unconsciously and in a way that is not to our greatest benefit. By becoming more skilled in hypnosis and self-hypnosis, we can learn to intentionally apply our trances, resources and relationships to move toward health, balance and wellness with more self-control and self-awareness throughout the process."
Clinical hypnosis and biofeedback are therapeutic tools Sugarman uses to help young children, adolescents and college students learn skills to self-regulate and manage anxiety and autism spectrum disorders. His involvement in the autism spectrum community has led him to join the AutismUp Board of Directors, the leading autism organization in Rochester with more than 2,000 members.
Hope works closely with Sugarman as the clinical research coordinator for the center and runs the Minding Anxiety Program, which provides self-regulation training using peripheral biofeedback for RIT students with autism spectrum disorder, anxiety or stress.
To watch a brief video interview with Laurence Sugarman about clinical hypnosis and autism spectrum disorder, go to https://www.youtube.com/watch?v=LdRgm336dTU.