RIT Salutes and Supports Veterans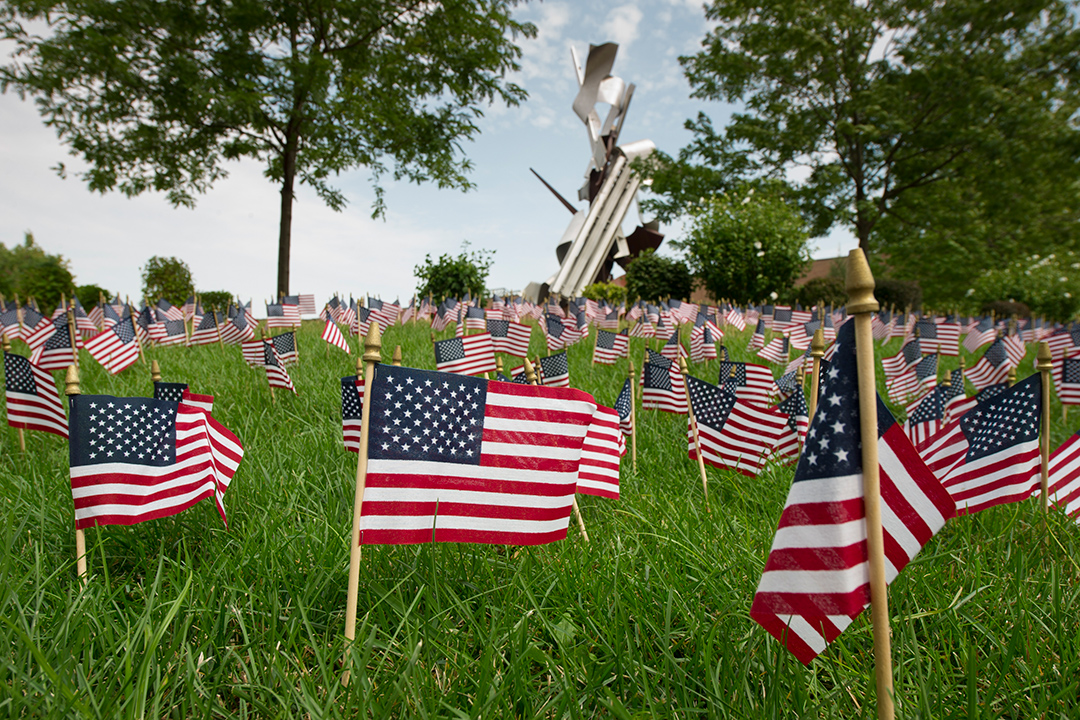 Sarah Jump
A Letter from RIT President David C. Munson Jr.:
Today we honor our Veterans. We pause to extend our deepest appreciation to RIT students, faculty, and staff veterans and service members for their courage and commitment to serve and protect our nation. Thank you to their families as well, for the sacrifices they make.
As many of you know, RIT has a longstanding tradition of honoring and supporting active duty military, veterans, and their families for the past nine years with an annual Veterans Day Breakfast, which hosts over 400 veterans, family members, and friends each year. Due to COVID-19 government regulations, we are not able to hold the breakfast in person this year.
However, supporting our military members is important to us. Thanks to L3Harris, we are excited to announce the company will award stipends to five veteran students enrolled at RIT. We are immensely grateful to Dana Mehnert, president of L3Harris Technologies Communication Systems, for this generous financial commitment to support the needs of our active duty military and student veterans' needs.
"We are honored to support the active duty and student veterans of RIT," said Mehnert. "As one of the largest employers of RIT graduates, L3Harris also employs hundreds of veterans whose mission is to provide the U.S. armed forces and its allies with cutting edge technology solutions across land, sea, space, and cyber domains. This award is our recognition to acknowledge those who bravely serve their country and sacrifice so much for their fellow citizens."
RIT is recognized for its commitment to serving veterans and is designated a Military Friendly School for 2020-2021. Our Veterans Upward Bound (VUB) program provides a wide variety of services to veterans in our community. Last year, it served 125 low income, first-generation, and/or academically in-need veterans. Seventy-one percent of participants who completed their prescribed VUB educational program in the project year enrolled in a post-secondary education program.
"Our goal is to provide quality advising and support services to any veteran or service member interested in furthering their education, laying a foundation for the next steps in their academic career. Our dedicated staff is passionate about serving our nation's military personnel, and it is a privilege to do so," said Rachel Mathews, director Veterans Upward Bound.
We are also aware that a large number of New York's reservists are still activated on the COVID-19 mission. They have spent a good part of this year serving us.  We stand ready to serve them on their return.
One more very important announcement. On this Veterans Day, RIT's Dining Services will provide a meal of choice to all RIT veteran students, faculty, and staff at any of their dining locations on campus. All you need to do is show your ID to be recognized.
"We are delighted to do this in light of COVID-19 restrictions preventing us from being together as in the past," said Howard Ward, associate vice president, Auxiliary Services. "This is an opportunity for every RIT veteran to have a meal and take their pick from what we offer. We are excited to continue the tradition of serving our veterans on campus."
Again, thank you for your service. We are indeed grateful.
Topics