RIT scientists 'feel the burn' of wildfire research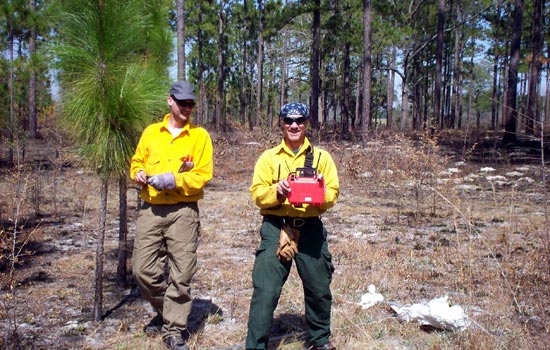 Photo submitted by Robert Kremens
Scientists from RIT recently helped the U.S. Forest Service collect information about wildfire behavior, atmospheric dynamics and fire effects in controlled burns in Florida and Georgia as part of an exercise called Rx-CADRE—Prescribed Fire Combustion-Atmospheric Dynamics Research Experiments.
Robert Kremens, research professor, and Jason Faulring, systems integration engineer, in RIT's Chester F. Carlson Center for Imaging Science, joined wild land fire managers and researchers from the around the country during the first week of March for wildfire experiments at Eglin Air Force Base in Florida and at the Jones Ecological Research Center near Newton, Ga.
Researchers used a variety of ground-based and airborne instruments to observe the controlled fires. Data collected from the experiments will help fire managers model and predict the behavior of fires influenced by fuel type, fuel loading, local weather and other variables.
"Over 40 of the nation's best fire scientists participated in what I believe is the most instrumented wild land fires ever," Kremens says. "Five fires were flown in one week, collecting what I believe to be the best data set ever obtained from any wild land fire experiment. I have no doubt we will be studying these events for a long time."
RIT participation included the development and deployment of several critical ground-based sensor systems and an airborne fire-mapping camera system. Pre-positioned ground-based sensors monitored various fire parameters as the fire progressed, says Donald McKeown, distinguished researcher in RIT's Laboratory for Imaging Algorithms and Systems.
Faulring operated the fire-mapping camera system from the back of a light aircraft flying over the fires and continuously photographed the progress of the burn. The camera is a lightweight version of the wildfire airborne sensor program RIT developed for the U.S. Forest Service, and is dubbed "WASP-Lite." It is equipped with color and thermal infrared cameras and an inertial navigation system to precisely map fire location. The WASP-Lite sensor is installed in an aircraft provided by Kucera International, an aerial mapping company, McKeown says.
RIT joined several other organizations who participated in this testing operation.
Topics