RIT selected to host New Media Consortium in 2016
International innovation conference annually attracts hundreds of top new media, technology experts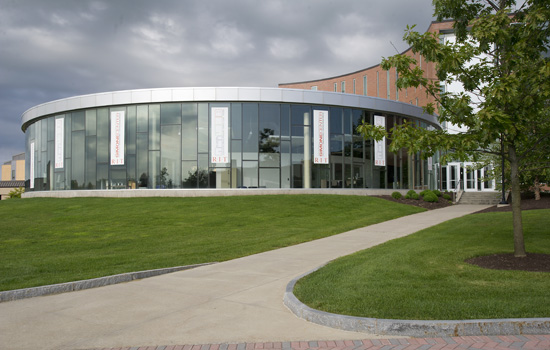 The Center for Media, Arts, Games Interaction and Creativity (MAGIC) at Rochester Institute of Technology has been selected as the 2016 host site for the New Media Consortium, according to an announcement made June 11 at the closing ceremonies of the 2015 conference in Washington, D.C. The international conference will be held June 14–16, 2016, on the RIT campus and at the Rochester Riverside Convention Center.
The New Media Consortium annually draws hundreds of highly-skilled professionals from universities, colleges, museums and research centers, and stimulates and furthers the exploration and use of new media and technologies for learning and creative expression. Thought leaders within the education industry are encouraged to "push the envelope" and implement cutting-edge technologies and learning approaches.
Andrew Phelps, director and founder of RIT's MAGIC Center, will coordinate the 2016 conference. "On behalf of RIT and RIT's MAGIC Center, I am excited to welcome friends and colleagues from across the nation and around the globe to the New Media Consortium in 2016. Together, this community continues to shine as a beacon of excellence in the creation, exploration and dissemination of digital media and associated educational curriculum. The conference could have no finer home than Rochester, N.Y., a city whose history is steeped in the deep collaboration of the arts and technology, from its early years as an industrial hub to its current renaissance as a digital media oasis."
RIT is the first university to host the consortium since the University of Wisconsin-Madison in 2011.
"We are thrilled to be bringing our annual summer conference to Rochester, N.Y., next year," added Larry Johnson, chief executive officer of New Media Consortium. "RIT is the perfect host as they truly represent innovation in higher education."
RIT's MAGIC Center is a nonprofit university-wide research and development laboratory and a for-profit production studio that assists in efforts to bring digital media creations up to marketplace standards and commercialization. Faculty, staff and student researchers, artists and practitioners come together to create, contextualize and apply new knowledge in a multitude of related fields and disciplines as appropriate not only to STEM or the arts and humanities, but their intersection. The center is designed to bridge the gap between research and prototyping, and the ability to bring industry polish and commercial scale and support to myriad projects.