RIT selected as a 'Sustainable 16' finalist
Students, faculty can help university advance to 'Environmental 8' with video, photo submissions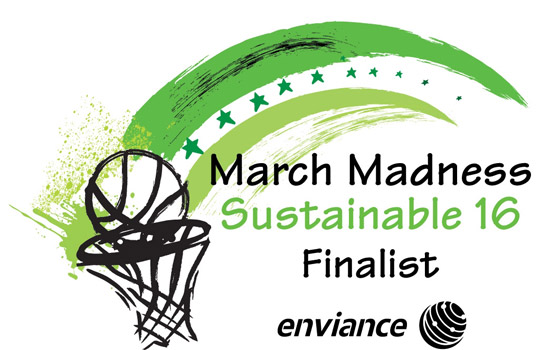 Rochester Institute of Technology today announced that it has been selected as a "Sustainable 16" school in the second-annual Environmental March Madness tournament, which rewards excellence in environmental academics and sustainability.
The Environmental March Madness Tournament was designed to evaluate colleges and universities on environmental-degree programs and curriculum, environmental opportunities for students, and campus sustainability efforts. Each participating school completed a survey covering factors ranging from internship opportunities, environmental-awareness campaigns, clean-energy implementations and a variety of other considerations. A panel of judges evaluated the submissions to determine the "Sustainable 16."
RIT advanced in the competition due to the university's wide variety of environmentally and sustainability focused master's and bachelor's degree programs and the number of campus faculty who serve as industry thought leaders, authors and researchers in sustainability and the environment. The university also received high marks for the hands-on environmental experiences available to undergraduate and graduate students, including the opportunity to conduct research with faculty members and to participate in sustainability projects through capstone classes or independent study.
"RIT is particularly proud to be named one of the country's top universities in sustainability because it recognizes our ongoing initiatives focused on promoting environmental responsibility across campus and throughout the community," says Enid Cardinal, senior sustainability advisor to the president. "From President Bill Destler's pledge for our campus to be carbon neutral by 2030 to our faculty's and students' involvement in environmental- and sustainability-related degree programs and community outreach efforts, our campus never stops promoting environmental and sustainability awareness."
Now that RIT has made it to the "Sustainable 16," Cardinal is encouraging faculty and students to support the university's efforts to advance to the "Environmental Eight" and "Finest Four" by submitting short-essay submissions, social media or video submissions on why RIT deserves to be named the "National Champion" in environmental academics and sustainability. Submissions will be accepted through Friday, March 8, when the "Environmental Eight" is announced. Go to www.enviance.com/march-madness for details.
The school chosen as National Champion will receive a $5,000 grant for its environmental department and the department chair or a chosen faculty member will also be sent on an all-expenses-paid trip to San Diego, Calif., to attend the Enviance User Conference, April 22-26. While there, the winner will lead a panel on educating future environmental professionals. In addition, the two students deemed by the judges to have submitted the most compelling supporting materials will be awarded Google Nexus tablets. Any participating student from the Finest Four is eligible for this prize.
The competition, sponsored by Enviance, in partnership with GreenBiz Group and Qualtrics, will announce 2013's National Champion in environmental academics and sustainability on April 8.
For more information on the Environmental March Madness tournament, email march-madness@enviance.com or go to www.enviance.com/march-madness. Real-time updates can also be received on Twitter by following @enviance and #EnviroU.