RIT, Seneca Park Zoo Society sign partnership
Students across multiple disciplines will benefit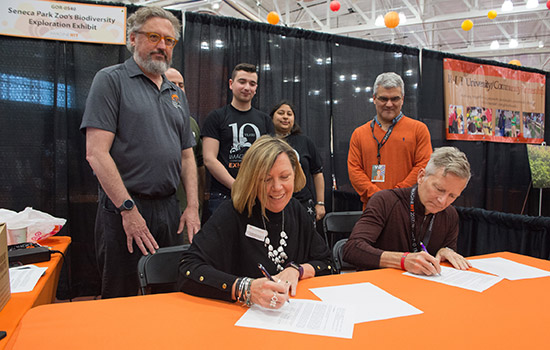 Dylan McCallum
Officials from Rochester Institute of Technology and the Seneca Park Zoo Society have announced a new strategic partnership between the two institutions.
The collaboration formally recognizes and builds upon a relationship that has existed for years and was formalized with a memorandum of understanding to develop, promote and implement mutually beneficial projects.
The agreement will involve faculty members and students from RIT who can support the society's operations.
"This gives us the opportunity to work with faculty, staff and students on meaningful projects that allow us to further our work," said Pamela Reed Sanchez, executive director of the Seneca Park Zoo Society. "It multiplies our resources tremendously. The faculty and students we've met are really interested in solving real-world problems."
Many RIT students and faculty members have already worked at the zoo over the years from a number of disciplines, including environmental science, museum studies and new media and game design. Future collaboration may include students and faculty from hospitality, marketing, photography, K-12 education and more.
One such opportunity is the Center for Biodiversity Exploration, which opens at the zoo this summer. With students in the fields of gaming, environmental studies, marketing and a host of other disciplines, a multi-disciplinary class at RIT has been working with Zoo Society staff to design, test and build an interactive experience to engage zoo guests in understanding biodiversity and environmental health for zoo guests.
The partnership was signed by Reed Sanchez and RIT Provost and Senior Vice President for Academic Affairs Jeremy Haefner during the Imagine RIT: Innovation and Creativity Festival on May 6.
Also present for the signing were Natalie Alfke, a 2016 RIT graduate in 3D digital design, and Miguel Murphy, a third-year School of Individualized Study major from North Stonington, Conn. Both were employed by the Zoo Society, as a graphic designer, and programmer and developer respectively, working on the Center for Biodiversity Exploration experience.
"We want our students and faculty to be engaged in helping the greater Rochester community thrive. We do this by seeking collaborative opportunities where the university can partner with community organizations like the Zoo Society to achieve mutually beneficial goals," said James Winebrake, dean of RIT's College of Liberal Arts.
"By formalizing the partnership through this memorandum of understanding, our organizations are making a long-term commitment to work together to create enriching opportunities for our students, faculty and our community."