RIT student competes on 'Jeopardy!'
Sheldon Lewis qualifies from among thousands of students vying for chance at annual championship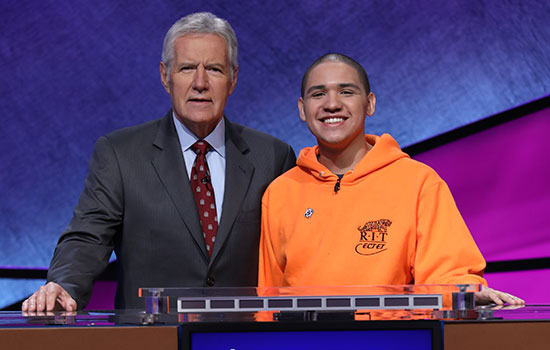 Note: RIT and CAST will host a campus viewing event at 7:30 p.m. on April 9 in Ingle Auditorium. Light refreshments will be served in the Fireside Lounge at 7 p.m.
Sheldon Lewis buzzed in fast enough and qualified for the 2018 Jeopardy! College Championship. He will represent Rochester Institute of Technology as a contestant on the annual game show competition airing at 7:30 p.m. on April 9 on WROC-TV (channel 8).
Lewis, a second-year computer engineering technology major in RIT's College of Applied Science and Technology, taped the show in California in March. He's been mum about results, but he shared some of the behind-the-scenes process he went through to be part of "America's Favorite Quiz Show."
Of the thousands of students from universities across the country who start the audition process with online quizzes, only a handful are selected for onsite interviews. Lewis was among that group and traveled to Boston for a mock game where producers encouraged—and looked for—prospective contestants who displayed enthusiasm, energy and intellect. Being familiar with the Jeopardy! format, Lewis made it through practice games where contestants had to answer questions within eight seconds. He was later contacted to learn that he'd be among the final 15 collegiate competitors.
"I was among a pretty stellar crew of students. The questions were varied from light to others that were 'killer.' How did I prepare? It was half panic and the other half just being focused on academics as much as possible," said Lewis, who is from Buffalo, N.Y.  
Auditioning and being on Jeopardy! fulfills a childhood dream for Lewis.
"I've been watching the show since I was 4. It's not just clues and question responses; it is clever word play. The puzzle isn't the answer, its understanding how they want you get to the proper question as a response, and this is a different way to think about problems," he said, relating that this different way of thinking helps in his classes. "Not everybody approaches problems the Jeopardy way, or the engineering way. Problems in my classes that might be confusing, if I think about them in other ways, I can break them down a lot easier. Maybe my way of looking at information can break barriers or find new ways to solve things."
Note: RIT's last Jeopardy! contestant was Sarah Thompson, associate professor of art history in RIT's College of Imaging Arts and Sciences, who competed in March 2016. Sean Hansen, associate professor of management information systems in RIT's Saunders College of Business, also competed in April 2012.
Related News