RIT student leaders converge in Dubrovnik
Annual Student Government Global Consortium brings student leaders together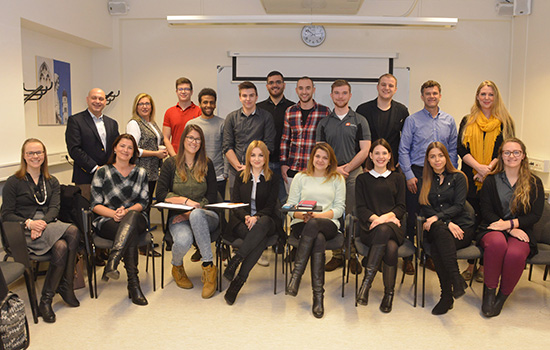 First it was Dubai, then Zagreb, then Rochester. This year it was Dubrovnik, Croatia's turn to host the Student Government Global Consortium, where Student Government leaders from RIT's campuses met to discuss common issues and share ideas to improve student life.
Students from Dubai, Dubrovnik, Kosovo, Rochester and Zagreb along with academic advisers met Jan. 16–19 and found time to do a bit of sightseeing and visit successful businesses of RIT alumni.
"The consortium was an awesome opportunity for student leaders on all of our campuses to come together and share our successes and challenges that we face on each of our respective campuses," said RIT Student Government President Andrea Shaver. "Bringing all of us, our ideas and our passion and enthusiasm together once a year allows us to take that energy and work on finding common solutions or make progress to solve these issues."
She said the group identified three common goals: increase awareness of RIT's global campuses and opportunities for students to have global experiences; make all of RIT's campuses more accessible and inclusive for deaf and hard-of-hearing students; and increase communication from RIT's main campus to RIT campuses in other countries.
Kareem Hassan, a mechanical engineering student and vice president of the Student Government at RIT Dubai, said the meeting "showed us how much RIT is willing to do for the well being of its students. You have at least two leaders from each campus invited to share ideas and work together on global goals," he said. "The diversity was extreme and there were many groups of different languages and different accents, yet we manage to have the beautiful dynamic that we do now and had no problems with cultural differences whatsoever. It was probably one of the most exciting times in my years as a university student."
This was the third Student Government consortium Lorena Rosean, an international business student and vice president of Student Government in Zagreb, has attended, and she said it was the best.
"Collaborating with students from other campuses was amazing," she said. "Each year I have gotten the opportunity to meet different people from all over the world that impacted my personal, as well as my professional life as a Student Government representative. The people that I have had the chance to meet changed the way I look at some things and I'm extremely happy I've had that opportunity."
Bobby Moakley, RIT Rochester's cross-registered senator from Boston who is a second-year double major in environmental science and international/global studies, was thrilled that other students were willing to have inclusive campuses and learn about deaf culture and American Sign Language.
"Being an RIT student opens me up to diversity, new experiences and new ideas," Moakley said. "I could not be prouder to be an RIT student. I am able to thrive in any area I desire with such a supportive community both locally and globally."
Niko Katusic, president of Student Government at RIT Dubrovnik's campus, said hosting the meeting was one of his best experiences as an RIT student.
"Student life will be even more interesting after this consortium because we shared and we generated more ideas and plans for the upcoming year," Katusic said. He talked with many of his fellow students online previously, "but it was really nice to discuss with such amazing people in person. Every minute we spent together was something that we were all happy about. We combined our strengths and the output from the consortium will be seen during the upcoming semester."
The 2018 consortium is planned in Dubai.